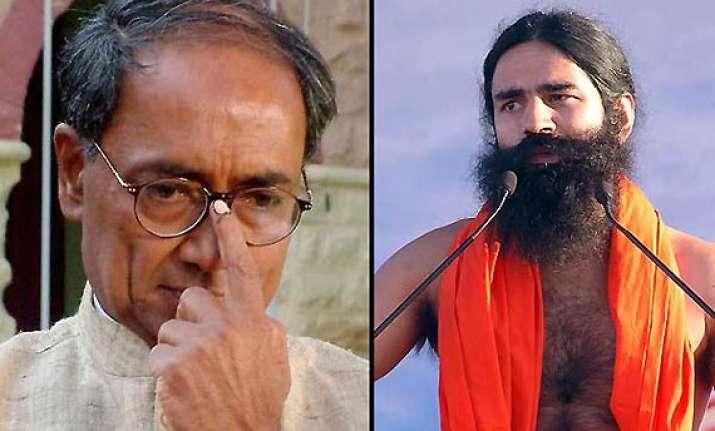 New Delhi, Nov 19: Congress leader Digvijay Singh today targeted Ramdev for his remarks that Mayawati will make a better Prime Minister than Rahul Gandhi, expressing surprise over the sudden warmth between the yoga guru and the Uttar Pradesh Chief Minister.

"Ramdev feels Mayawati would make a better PM than Rahul!  Politics does make strange bed fellows," Singh commented on microblogging site twitter a day after Ramdev made the remarks in the course of his Uttar Pradesh tour to mobilise support for his anti-corruption campaign.

At the AICC briefing, party spokesperson Rashid Alvi also reacted sharply to Ramdev's remarks saying it is the people of the country, who will decide who would be the next Prime Minister of the country and "it does not make any difference whether Baba Ramdev thinks so or not."

Alvi also dismissed Mayawati's attack on Gandhi for his recent move to get loan waiver for the weavers in UP. 

"The issue of weavers was taken up long back by Rahul Gandhi who had also discussed it with Prime Minister Manmohan Singh. Uttar Pradesh government should be happy if something is being done for them today. There is no fixed dateline for solving any issue," he said.

Raising questions over the proposed package for weavers, Mayawati had in a letter read out at an official press conference, said she wanted to know whether it was a "political stunt".

Her remarks came after Rahul Gandhis'letter to Textile Minister Anand Sharma a few days back asking the Centre to formulate an "appropriate financial package" for crisis-ridden handloom weavers in Uttar Pradesh where Assembly elections are round the corner.