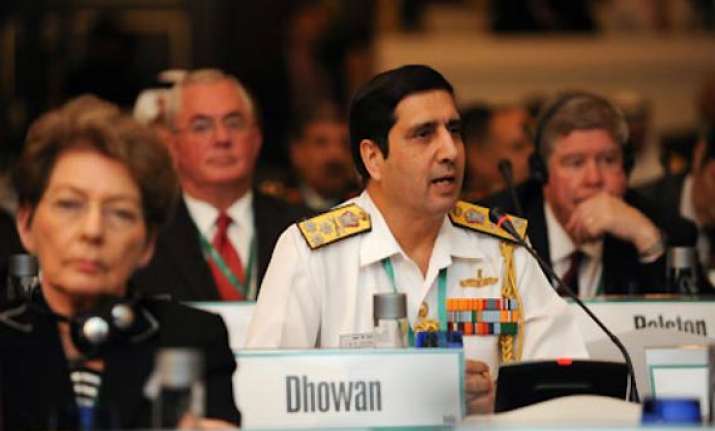 New Delhi: Admiral Robin Dowan today took over as the Chief of Naval Staff, a post that was lying vacant for nearly two months, and declared his intent to focus on preventing mishaps that have plagued the force and making it combat ready to meet all the challenges.
The 59-year-old navigation and direction specialist was the Vice Chief of Navy and was appointed as Acting Chief of the Naval Staff after Admiral D K Joshi quit as the Chief on February 26 in the wake of a series of mishaps involving Naval submarines and other assets.
Dhowan, who superseded Western Commander Vice Admiral Shekhar Sinha and will have a tenure of 25 months, listed out his priorites soon after taking over. Identifying safety as one of the priorities against the backdrop of a series of mishaps, he said the Standard Operating Procedures (SOPS) would have to be implemented strictly to ensure that there are no accidents.
"Being a professional navy, we have to ensure that these incidents do not happen in future. And the way to do that is that we follow the laid down Standard Operating Procedures and we don't take any shortcuts that lead to these accidents," he told reporters here.
"We have effective safety audits in place and strict procedures by which we will follow SOPs to ensure that accidents don't happen," he said.
Over the last 10 months, the Navy has suffered 14 mishaps including two involving submarines. A major mishap took place in August last year when submarine INS Sindhurakshak sank, killing all 18 personnel on board.
Another major submarine mishap took place on February 26 involving INS Sindhuratna in which two officers died. Admiral Joshi resigned hours later.
Among his other priorities, Dhowan said he would ensure that the Navy is combat ready to meet all the challenges at all times and make sure that Navy men and officers are trained professionally and adequately.
"To meet the maritime challenges, we need a formidable and multi-dimensional navy which can take on the entire spectrum of operation in maritime domain," the 22nd Navy Chief said.
Noting that the future of Indian navy is based on self-reliance and indigenisation, he said, "It will be my endeavour to ensure to pull on the oars together and keeping my hands on the tiller to ensure that we run an efficient, taut and a happy navy."