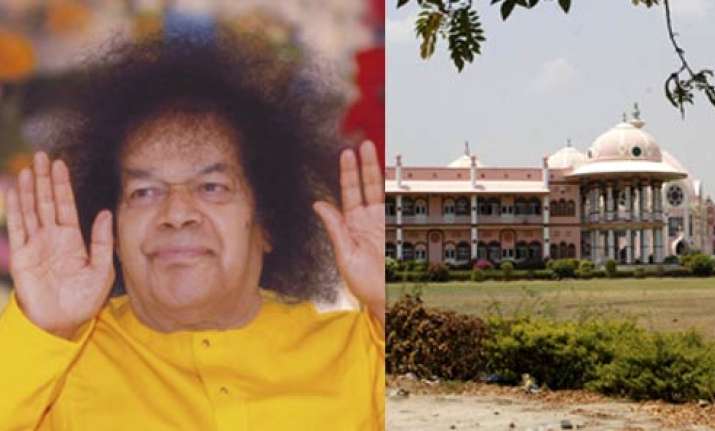 Puttaparthi, Apr 10: As the 86-year-old spiritual leader Sathya Sai Baba  battles for life in his super-speciality hospital, hordes of his devotees are counting on an old promise about a miracle, reports Mumbai Mirror.

Sathya Sai Baba, whose chief mode of communication with his devotees is through dreams and visions, had declared in a public discourse in 1961: "I shall be in this body for 58 years more."

That would set his time of demise at around 92 years of age. However (due to the proverbial lost-in-translation), devotees of Sai Baba believe that Baba will return to his heavenly abode when he is 96.

Thus, even though the 86-year old godman, who suffered a multipleorgan failure and is currently in the super-specialty hospital which he built, attached to a ventilator, people in Puttaparthi do not fail to remind us that "this is not it."

 Santhosh, a third generation textile businessman, an ardent Sai devotee and resident of Puttaparthi says confidently, "There's nothing to worry. Baba will give darshan on April 12, on Rama Navami day."

Baba's darshan is the axis on which life pivots in Puttaparthi. An event that occurs every day between 5.30 -7.30 pm, when Baba floats in, amidst the sea of people from across the globe gathered at the Sai Kulwant Hall. He may listen to a few, accept letters or distribute sacred ash.

And some, he invites for a group interview. Usually people wait for hours to get a Sai darshan. All that has stopped now.


'Baba's Darshan', which is a daily, core experience, in the lives of the residents of Puttaparthi, is the meeting ground of a devotee's dream and the man who summoned them in their dreams; it is the event where devotees believe that they can see the 'hand of power' and their connection to that power; it is an occasion where many rewrite the meaning of escapism and existence.

That is why it is important for the folks in Puttaparthi to believe that Baba will "rise from the hospital bed and give darshan".

For them, Sai darshan would mean that all is well in their world. Ola, a Russian, has been staying in Puttaparthi for a month, though there have been no sightings of the Baba for a while now. "I see him everywhere," she says.

Artur, a 32-year-old cop from Russia, has been visiting Puttaparthi since 2007. "I could never control my temper," says the burly cop. "But, since the time I began visiting Puttaparthi I have been able to control my temper."Baba's anticipated April 12 darshan is imperative for the endurance of faith.

 In 1960, at a public discourse Sai Baba stated: "I will be in this mortal human form for 59 years more. And I shall certainly achieve the purpose of this avatar…but my word will never fail. It must happen as I will." In spite of the Baba-edict, some of the devotees are concerned. That is why they have resorted to prayer.

Selvi Rajaratnam, a 55-year old devotee, recites Samastaloka Sukhina Bhavanthu prayer every day for 15 minutes.Homas are being performed for Baba's complete recovery, while bhajans and Sankirtans are being performed as usual at the Ashram.

 Apart from the government, which is talking of taking over the 40,000-crore Sathya Sai Organisation, and murmurs of infighting among family members for their share of the trust, the devotees are not thinking of an alternative to their beloved Sai.They are confident of his darshan on Ram Navami, which marks the birth of Lord Rama. Baba on many occasions has claimed that he is the reincarnation of Lord Rama.