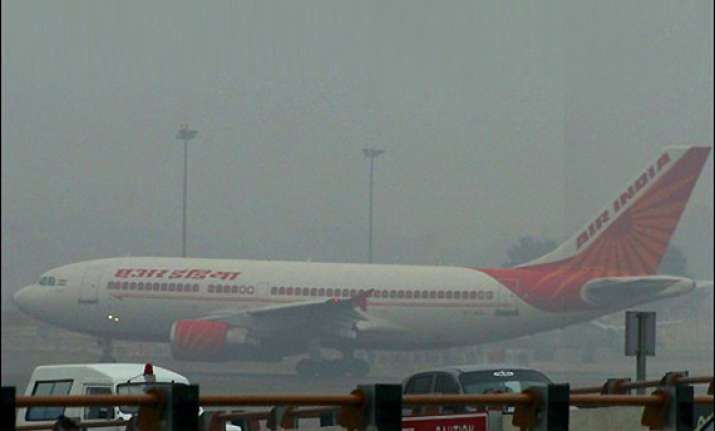 New Delhi, Dec 30: An unprecedented dense fog today left flight operations in disarry at IGI airport, affecting 400 flights and giving a harrowing time to flyers. 

The fog enveloped the airport around 4.00 AM and general visibility reached near zero while the runway visibility dipped to less than 50 metres leading to suspension of operations for seven hours.

"The situation prevailed till 11.00 AM, during which almost all flight operations were affected as the runway visual range Runway 29 (new) and 28 (main) were lower than the prescribed minima for flying in CAT III B conditions (below 50 metres)," an airport official said.

According to rules, the flights should take off when the runway visibility is more than 125 metres and 150 metres for different types of aircraft.

Though the two runways of Delhi airport are CAT III B compliant, under this an aircraft can land when the runway visibility is not less than 50 metres, but the runway visibility went below 50 metres.

The poor visibility forced the airport authorities to implement low visibility procedures on new runway at 2125 hours yesterday and was in progress till late this evening.  The LVP was initiated at main runway (Rwy 10/28) at 0112 hours and was also in progress till evening.

About 25 flights -- 23 domestic and two international— departing from Delhi and 19 flights (2 international and 17 domestic) arriving here were cancelled.

Poor visibility forced the airport authorities to divert 30 (19 domestic and 11 international) flights from here to nearby airports.

Yesterday, around 143 flights were delayed and nine cancelled due to poor weather at destination or operational reasons.

A total of 107 domestic and 41 international flights scheduled to depart from here were delayed by up eight hours, while 76 domestic and 59 international scheduled to arrive here were also delayed, the official said.  When the situation started to improve after 11 AM, there was a huge backlog, as a result even the flights which were on schedule were also affected.

Passengers were a harassed lot, especially those who had to catch early morning flights as they had to leave for airport early and wade through foggy roads, only to hear that operations were disrupted.

According to DIAL CEO, I Prabhakara Rao, "The fog was the densest in years and for close to seven hours no flight operations were possible."

He said that the IGI airport is fully geared to face the fog both in terms of terminal and airside capability. 

"Today in spite of seven hours of visibility below 50 meters, the terminals were able to accommodate the extra passenger load. All services like food and beverage, housekeeping and maintenance was up to the mark. New facilities like snooze pods, reclining chairs, transit hotel and extra seating offered comfort to passengers," Rao said. 

DIAL said all possible steps were taken to reduce passenger inconvenience and provide information through flight information display system (FIDS) at the terminal, call centre and IGI website.

"The additional customer service staff, additional help desks coupled with the presence of senior members of DIAL gave respite to passengers," he said.