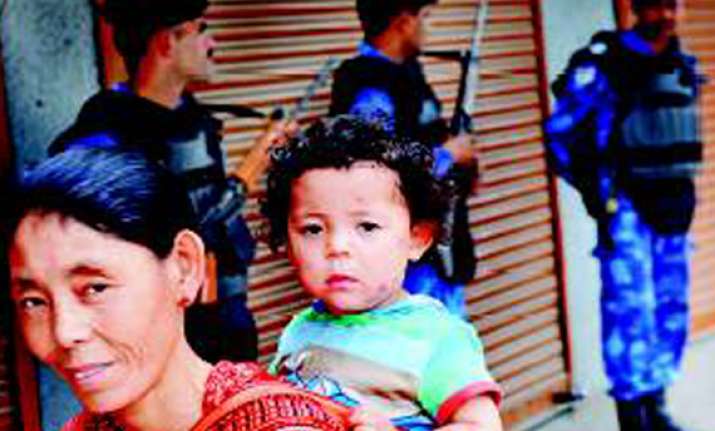 New Delhi, March 28:
Special contingents of Delhi Police and Rapid Action Force have been deployed in localities populated by Tibetan refugees in Delhi to prevent their movements during Chinese President Hu Jintao's visit for the BRICS summit in Delhi.  
Tibetan writer, poet and activist Tenzin Tsundue was arrested by plainclothes policemen on Tuesday evening from India International Centre, where he was in the midst of an academic discussion on Tibet, Times of India reported.       
Delhi Police said, Tsundue was arrested under preventive detention sections for what it called his "notorious activities in Bangalore" where he had staged a protest during Chinese Prime Minister's visit in 2005.  
Areas with large Tibetan population like Majnu Ka Tila, Ambedkar Bhawan and Buddh Vihar Tibetan market witnessed a clampdown from Tuesday as the policemen disallowed Tibetan students, working professionals and tourists from moving around freely in the city, citing "apprehension for violence".  
Tibetans residing in these localities complained that they were stopped from going to work, attending college and even going out to buy groceries.                                            
"No autos were allowed to carry us, police shooed them away My friend works in Gurgaon but was not allowed to report to work. Her boss reused to believe her. Police should allow routine activities like going to hospitals and colleges", said Tenzin Yangki, a student living in Majnu Ka Tila.  
The Tibetan SOS Youth Hostel in Rohini Sector 14 was locked by police from outside to prevent the students from going out.  
There are nearly 240 Tibetan students inside the hostel. 
"We have been locked up inside the hostel since morning (Tuesday). Many of us have missed our exams and project submission deadlines. We pleaded with police to allow some of us to sit for exams at 9 am, but they allowed us to go for exam at 10 am. By then, we had already missed the exam", said Palden Sonam.       
Rohini police pushed out media cameramen from taking pictures of the locked out hostel citing Sec 65 of Delhi Police Act. 
On Monday, a Tibetan demonstrator had set himself on fire while staging protest against the visit of  Chinese President Hu Jintao.