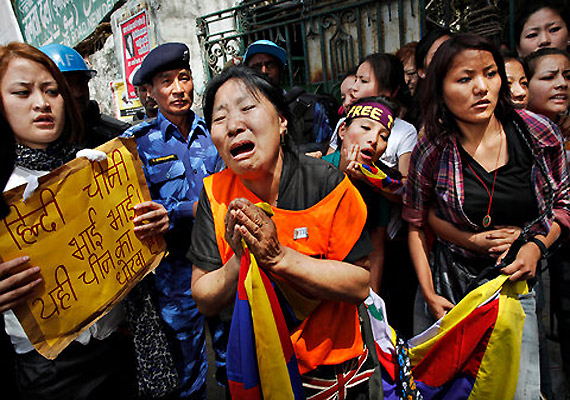 New Delhi, Mar 29: The city police was today directed by the Delhi High Court not to harass people from the North East and Ladakh because of their resemblance with Tibetans, who were under the police scanner for protesting Chinese President Hu Jintao's visit here for the BRICS summit.  
A division bench of Acting Chief Justice A K Sikri and Justice Rajiv Sahai Endlaw appointed a team of five lawyers to meet the detainees to ascertain their genuineness and said, "It is the duty of the police not to harass people in the name of maintaining law and order in the city."
"We permit the team of lawyers to meet those persons who were arrested and lodged in Tihar Jail or detained in police stations to find out whether they are from Tibet or the North East," the bench said in its order.
The court directed Delhi police to shift the Tibetans, who were lodged in Tihar, to Ambedkar Bhawan where nearly 200 other Tibetans have been detained for staging protests.  
The court, however, refused to restrain police from detaining the Tibetan protesters to maintain the law and order situation.
The bench passed the order on an oral submission by Arun Asthana, a lawyer, that police is harassing people from the North East and Ladakh as they look like Tibetans. Harassments to citizens, Asthana said, is violative of their personal liberty.
Asthana cited the experience of two lawyers from the North East, who faced police interrogation this morning and said "police has made these people's life miserable for last two days."
Appearing for the Delhi police, Standing Counsel (Criminal) Pawan Sharma told the bench that on March 27 an order was passed by the Foreigner Regional Registration Offices (FRRO) under the Foreigners' Act to detain Tibetans who did not have genuine identity proof and indulged in the protest here.
Sharma also submitted that 197 people have been picked up from various districts and kept at Ambedkar Bhawan.  
He added they would be freed as soon as the Chinese President Jintao leaves the country on March 30 after the conclusion of the BRICS (Brazil, Russia, India, China and South Africa) summit.