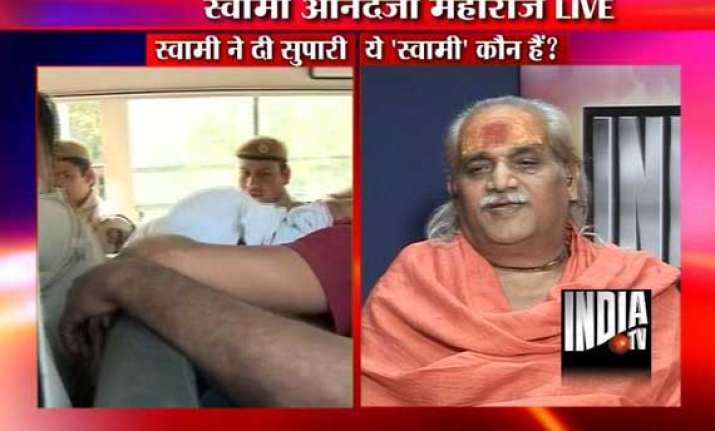 New Delhi, Apr 2 : Swami Anandji Maharaj, the guru of Delhi's richest politician Deepak Bhardwaj, told India TV on Tuesday in an interview that the builder had told him 20 days before his murder that his life was in danger.
Speaking to India TV from UP, Swami Anandji Maharaj, who claimed to be a disciple of Jagatguru Rambhadracharya,  said, "I had gone to meet Deepak Bhardwaj on March 6 to give him an invitation to attend my 'yagna' (sacrificial fire) ceremony on March 7 and 8. I had Mahesh  Chandra Gupta of Vishwa Hindu Parishad with me. There, I noticed for the first time, that he had three layers of security around him.
"I asked Deepak Bhardwaj, why he had so much security with him. He told me that he too had several enemies and felt danger to his life".
The swami, who hails from Uttar Pradesh, is closely associated with  Sanskritik Gaurav Manch, affiliated to Vishwa Hindu Parishad.
Asked about his acquaintance with Bhardwaj, the swami said, he first came in touch with him in 2007 at an event organised by Sanskritik Gaurav Manch. "I used to meet him often. But in 2009, when he got a ticket from Mayawati's BSP to contest the Delhi elections, I lost touch with him.
"On March 8 this year, Bhardwaj came to our yagna and stayed for nearly an hour, but I didn't have much time to talk with him. On March 26, when I heard about his murder, I went to his farmhouse, where I saw his wife and two sons for the first time. His wife was weeping and she collapsed on the ground. She was taken care of by her sons and 10-15 people.  I had no occasion to speak to her or his sons.
"During his funeral, I saw that there were no politicians present, only his business acquantainces."
Asked who could benefit from the killing of the builder, Swami Anandji Maharaj said, " There could be two possibilities: one, any political enemy, and two, any body eyeing hundreds of crores of gain. One who could have benefited by several hundreds of crores would carry out such a murder."
The swami said, he was yet to get any message from Delhi Police about assisting in the investigation. "If I get the request, I will definitely cooperate."