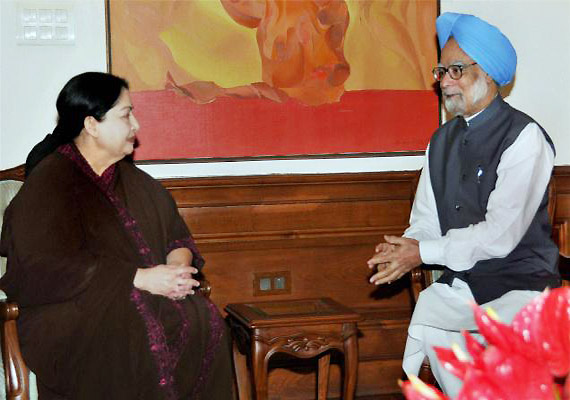 Chennai, Mar 28: A day after the Supreme Court sought to know the Centre's stand on Ram Sethu, Tamil Nadu Chief Minister Jayalalithaa on Wednesday asked the Union government to declare it a national monument without further delay.
In a letter to Prime Minister Manmohan Singh, she said her government would also separately file a counter to express its stand in this regard before the Supreme Court, where the issue has been posted for further hearing on March 29.
"In view of the strong objection raised to the earlier alignment due to its archaeological, historical and cultural importance, I request you to take necessary action to communicate the views of the Government of India to the Supreme Court that it would take immediate steps for declaring the site as a National Monument without any further delay."
She noted that the Supreme Court has directed the Additional Solicitor General to obtain the remarks of the Centre before Thursday on declaring the site as a national monument.
Ms. Jayalalithaa said petitions have been filed in the Supreme Court regarding the Sethusamudram Channel Project.
"Based on the strong opposition to the earlier Alignment 6 cutting across the ancient structure, popularly known as Ram Sethu due to its immeasurable historical, archaeological and heritage value, a number of writ petitions were filed in the Madras High Court and in the Supreme Court," she said.
Ms. Jayalalithaa recalled filing a petition in 2007 praying for direction to Tuticorin Port Trust and Ministry of Culture, to declare Adam's Bridge/Ram Sethu as a national monument.
It had also sought to take over, preserve and maintain the same and forebear Ministry of Shipping/Surface Transport and Sethusamudram Corporation Limited from in any manner destroying/damaging the site in the process of execution of Sethusamudram Project.
Ms. Jayalalithaa said she would be sending her government's views on the R.K. Pachauri Expert Committee which was appointed by the Centre in 2008 on the directions of the Supreme Court.
The Prime Minister-appointed panel, headed by Mr. Pachauri, had examined the feasibility of executing the controversial Sethusamudram project through Dhanuskodi instead of routing it through Rama Sethu.