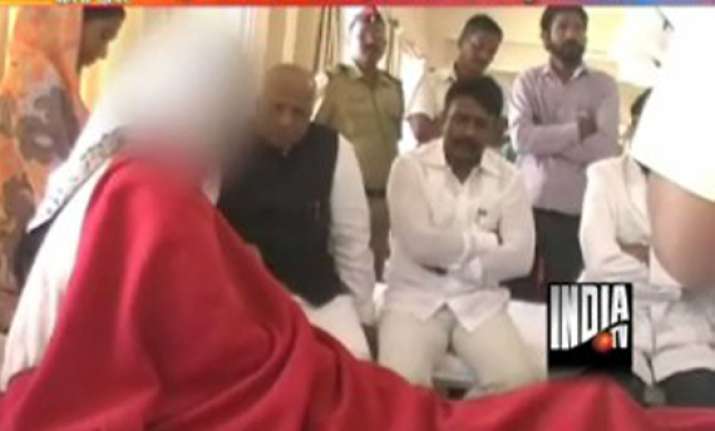 Satara, Maharashtra, Jan 14: A major political controversy has erupted in Maharashtra over the incident involving a Dalit woman, who was allegedly paraded naked in chief minister Prithviraj Chavan's home district Satara.
 
Even as Dalit outfits began protesting this incident, a Dalit NCP leader and state Water Supply Minister Laxmanrao Dhoble  described it as a quarrel between two families, further adding fuel to the fire.
 
Chief Minister Chavan is yet to meet the victim four days after the incident.
 
The incident took place in Mulgaon village, where people from upper castes beat up a Dalit woman and allegedly paraded her naked.
 
The victim has been admitted to Krishna Hospital in Karad.
 
It was minister Dhoble who went to the hospital to meet the victim, but as he came out he told newspersons that it was a quarrel between two families. 
 
Said Dhoble: "I spoke to the lady who has been living in the village for the last 20 years. Nobody in the village harassed her.
 
"It was a love affair between a boy and a girl, and the girl's parents were angry and commited this act, which is natural. All the accused have been arrested. The CM and the Home Minister are looking into this personally and the facts will come out after further inquiry."
 
Additional SP Satara Y C Patil is also describing this as a quarrel between two families  and is claiming that the lady was not disrobed.
 
He said: "After a boy eloped with the girl, three women from the girl's family beat up the Dalit woman out of anger. The charge that she was disrobed and tied to a tree is baseless.
 
"This is not a caste atrocity, but an incident involving two families. There is no tension in the village, and police is patrolling."
 
Dalit organisations have demanded action against the culprits involved.