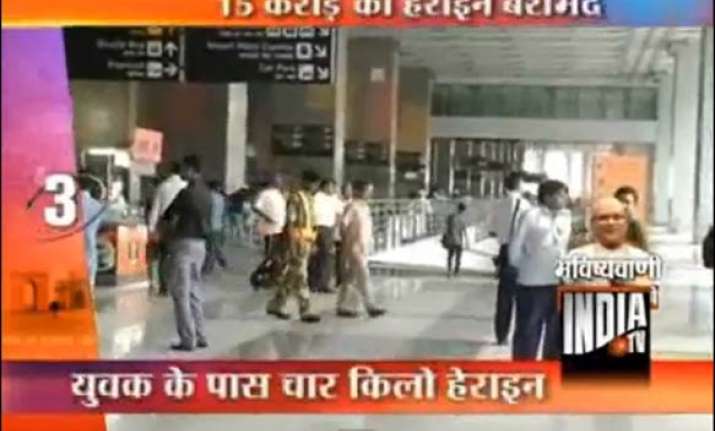 New Delhi, Jul 9 : NEW DELHI: In its biggest haul in at least five years, customs officials recovered 10 kg of heroin worth Rs 15 crore in the international market at Delhi airport on Thursday night. 

A 20-year-old Afghan national Mohammed Sabri from Kandahar arrived in Delhi on Ariana Afghan Airlines on Thursday. He aroused the suspicion of customs officials when he started opening bags on the conveyor belt and checking them. Sabri was stopped at the green channel and his bag was x-rayed, reports Times of India.

When that threw up nothing, officials carried out a physical check of his bag.

"It was then that we found that the bag had a false bottom that contained four packages. The packets contained a white powder which when checked under the Ion scanning test machine turned out to be heroin," said VK Goel, commissioner customs (I&G).

Shortly after Sabri was arrested for carrying 4kg of heroin, an abandoned bag was discovered near the x-ray machine.

When this bag was x-rayed and subjected to a physical check it was also found to have a false bottom that contained packets first wrapped in polythene and then in carbon paper. These were found to contain 6kg of heroin.

"Sabri said that he did not recognize the bag. It is possible that the same handler gave Sabri one bag and gave another passenger the other.

"When this person saw Sabri getting caught, he must have left his bag and made a run for it. The heroin is of a very good quality and costs about Rs 50 lakh in the domestic market. Its value in the international market must be about Rs 15 crore," said Roshan Lal, deputy commissioner customs (preventive).

During interrogations, Sabri revealed that the handler had shown him the bag a couple of days before the flight and told him to look for a blue piece of cloth in the bag to identify it correctly.

This is what he was looking for at the conveyor belt, when the customs officials spotted him. The handler also told Sabri to check himself into the flight directly and that he would ensure that the bag was loaded onto the aircraft.

"It is possible that Sabri was not aware that a second courier was also on the same flight. He came to Delhi on a three month visa to get medical treatment for a skin condition," said an official.

Customs officials became suspicious when the courier started opening bags on the conveyor belt and checking them.