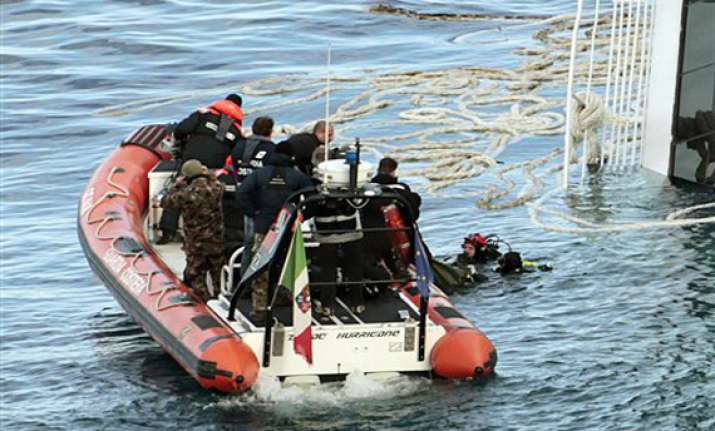 New Delhi, Jan 19: The first group of 72 of over 200 Indians rescued from the Italian cruise ship 'Costa Concordia', which hit a rock and sank off the Tuscan coast in Italy last week, returned home today.

Of these, 12 arrived at New Delhi in an Emirates flight (Ek 8512) from Dubai, while 38 flew to Mumbai in two flights, nine each to Chennai and Hyderabad, three at Bangalore and one in Kolkata, an official from Ministry of Overseas Indian Affairs said.

"We are lucky to have survived," they said relieved to be back home after their traumatic experience.  There were a total of 203 Indians on board the ill-fated ship - one passenger and 202 crew members.

Of them, 201 Indians were rescued and 31-year-old Robello Russel Terence from Mumbai is missing. One of the rescued, whose wife is an Italian national, has decided to stay back. 

The remaining about 128 rescued Indians will be flown back home tomorrow, the official said. 

Of the 12, who were flown to New Delhi's Indira Gandhi International airport here from Italy in an Emirates flight (EK 8512) via Dubai, six went to Goa, one each to Lucknow and Gawahati by domestic flights, soon after their arrival.

"Of the rest four, one has gone to Jhunjhunu in Rajasthan, one to Dehradun, one to Himachal Pradesh while one who actually hails from Kotdwar, had decided to stay with his friend here," the official said.

Terming the incident as "unimaginable", 26-year-old Mukesh Kumar—a resident of Hiruwa village of Jhunjhunu district—said, "we are lucky to have survived as it was captain's fault that despite knowing the situation he had ordered for evacuation late when the situation went out of control.

"I am thankful to God that we are safe and happy to be back with our family," he added.

It was an emotional moment when Kumar was greeted by his sister and brother-in-law, who came to receive him at the airport.

"I have no words to describe to see my brother hail and hearty. It was the grace of the God that he and others were saved," said Kumar's sister Santosh.

Another Indian, 28-year-old Kandari Surjan Singh, who was working for past three year on the ill-fated cruise ship, said prompt action by Italian rescue authorities helped save a number of people. The toll could have been much higher. 

"We are happy that we are back in our country. But we will go back to join the company as they were very helpful," Singh, a resident of Dehradun, said.

Indian embassy was very helpful in providing us Euro 100 each and free airline tickets to fly back, he added. 

Recounting his experience, Singh said "the accident happened with a loud thud. We all were anxious about what has happened. Then the ship started to tilt and sink."

The External Affairs Ministry has set up help desks at the airports in Delhi, Mumbai, Kolkata, Chennai and Hyderabad. 

The luxury liner, Costa Concordia, was carrying more than 4,200 people, many of whom were having dinner at the restaurant when it hit a reef or rock near the Tuscan Island of Giglio last Saturday.

Rescuers have so far recovered 11 bodies and 21 more people, including an Indian, are missing.