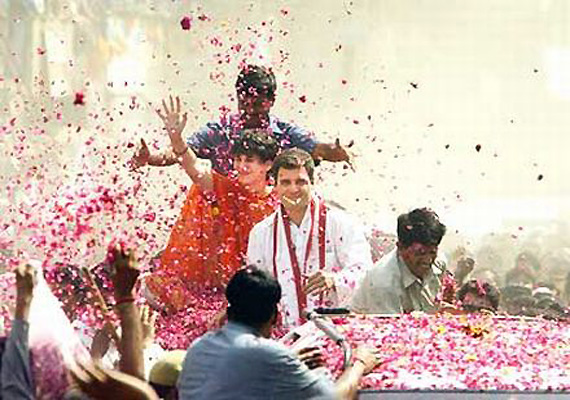 Lucknow, Feb 16: Amidst shouts of "zindabad" and showering of petals, Congress leader Rahul Gandhi today undertook a 34 km long road show in a especially designed bus touching different assembly seats in the state capital.

Gandhi, who earlier in the day addressed election meetings in Pratapgarh and Rae Bareli, started his road show in the bus having Congress flag and pictures of Prime Minister Manmohan Singh and Congress President Sonia Gandhi besides his one photo from the Amausi airport here.

Accompanied by all the party nominees from Lucknow along with UPCC president Rita Bahuguna Joshi who is also a candidate from Lucknow Cantt seat, Gandhi covered the entire distance on the footrest of the bus waving at the crowds holding party flags lined on the roadside.

A fleet of vehicles and two wheelers of partymen and supporters joined him in the roadshow.

The roadshow also covered the crowded old city areas to the busy market places where at several places the crowds forced his bus to slow down to shake hands with him.

Congress sources said that after the two meetings in the state capital yesterday, today's road show which touched parts of North, West, East, Central, Cantt and Sarojini Nagar seats had been a great success.

Rahul has covered over 52 of the 70 districts so far in his election campaign and has addressed over 100 meetings covering over 250 of the 403 assembly seats.

On Sunday last, he had participated in a 32 km roadshow of his sister Priyanka in Sultanpur for sometime.

The EC observers maintained a close vigil of the roadshow.