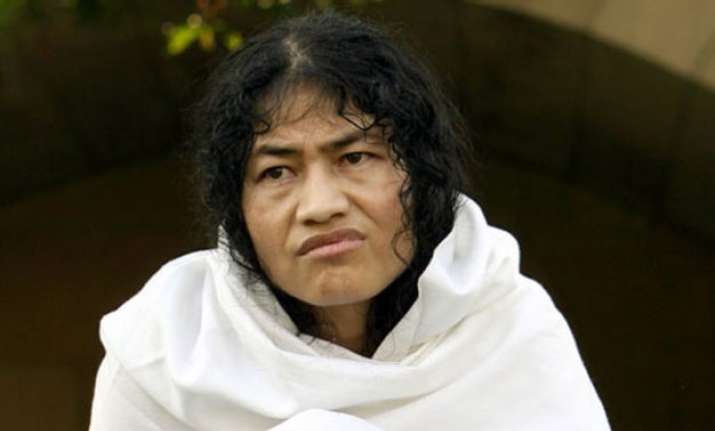 New Delhi: A Delhi court today fixed June 5 for hearing a case in which rights activist Irom Sharmila is facing trial for allegedly trying to commit suicide during her fast-unto-death at Jantar Mantar here in 2006.  Metropolitan Magistrate Akash Jain, who was scheduled to record evidence in the case today, fixed it for June 5 and 6 for further proceedings as Sharmila did not appear before the court.
On October 30, 2014, the court had recorded statements of four prosecution witnesses, including retired Assistant Commissioner of Police (ACP) G L Mehta, Dr Prashant Sinha, who had medically examined Sharmila after she was admitted to AIIMS, and two other officials of Delhi Police in the case. 
42-year-old Sharmila is currently under judicial custody in another case lodged against her at Manipur.  Sharmila, who is on a fast for over 14 years in Manipur demanding repeal of the Armed Forces (Special Powers) Act (AFSPA), had earlier told the court that she was very much eager to eat if she got the assurance that the "draconian" act will be revoked.
She had claimed that widespread discrimination was being done with the people from northeast.  She had told the court that she never intended to commit suicide and it was just a protest against AFSPA.  On March 4, 2013, the court had put Sharmila on trial after she had refused to plead guilty for the offence of attempting to commit suicide (section 309 of IPC).  
If convicted, Sharmila, who is out on bail in this case, faces a maximum jail term of one year.  Popularly known as the 'Iron Lady', Sharmila is fed through a nasal tube. She had earlier told the court that her protest was non-violent.
Her counsel had earlier told the court that Sharmila has already spent one year in judicial custody, which is the maximum sentence for the offence under section 309 of IPC.