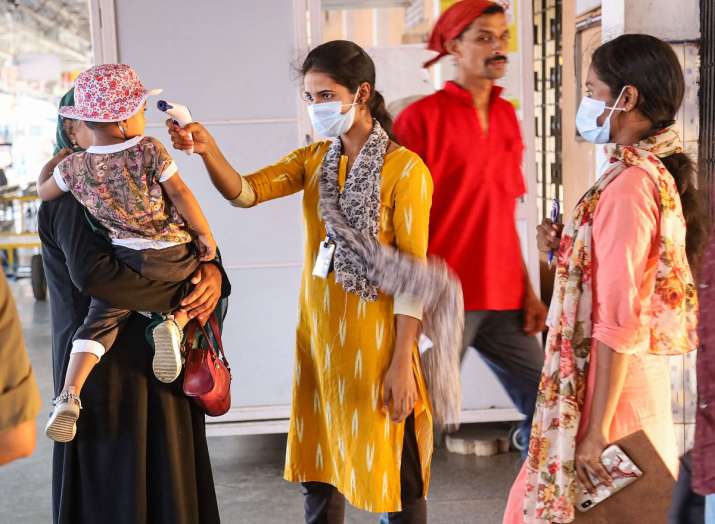 The total number of deaths due to coronavirus across the world has crossed the 7,500 mark. Meanwhile, in India, total number of people infected has risen to 137. On Tuesday, third death due to coronavirus was reported from Mumbai. Several states including Maharashtra, Kerala, Uttar Pradesh, and Karnataka have so far reported positive cases of coronavirus, wherein the patients have been quarantined, or have been admitted to the hospital. 
Coronavirus Outbreak Highlights
22:00 pm: West Bengal reports first coronavirus case after man who returned from UK tests positive
18:50 pm: Department of Health and Family Welfare Services, Bengaluru: The 11th patient tested positive for COVID-19 today is a 67-year-old female, a resident of Bengaluru who returned from Dubai via Goa on 9th March. She is a known case of chronic kidney disease. She was in strict home quarantine since 9th March. Yesterday, she was admitted to isolation hospital. 21 high risk contacts identified, including 5 members of her family&are under strict home quarantine.
18:20 pm: Deepak Mhaisekar, Divisional Commissioner of Pune: Presently, we've 290 beds available for ICU facility including govt and private hospitals. For isolation facility, we have 263 beds&we are adding 160 more beds so we'll have 423 beds available with us for isolation facility. For quarantine facility, we already have 520 beds available with us and we are adding 250 more beds, so we will have 770 beds for quarantine facility now. 
18:15 pm: Maharashtra CM Uddhav Thackeray: Public transport to remain open, no closure of government offices. Trains and buses are essential services so we are not stopping them as of now but if people don't listen to our advice and don't avoid unnecessary travel, then we will think about that too. Next 15-20 days are very crucial for us.
18:10 pm: Lav Aggarwal, Joint Secretary, Union Health Ministry: Travel of passengers from Afghanistan, Philippines and Malaysia to India is prohibited with immediate effect.  #Coronavirus
17:40 pm: Deepak Mhaisekar, Divisional Commissioner of Pune: One person has been tested positive for #COVID19 in Pimpri-Chinchwad today; he has travel history to USA. With this, total number of COVID19 cases rises to 40 in 
17.20 pm: Confirmed Coronavirus positive cases in India reach 137
16:57 pm: Dr Balram Bhargava, director-general of Indian Council of Medical Research (ICMR): We already know that we are in stage 2. We are in not in stage 3, clearly. Currently the laboratory expansion of ICMR is engaged, we are expanding our number of laboratories and as we speak, today we have 72 functional laboratories in ICMR system. We have also engaged non-ICMR, Ministry of Health, govt laboratories include CSIR, DRDO, DBT, govt medical colleges, we have 49 of those labs which will start testing by the end of this week. ICMR is also engaging with high-quality private laboratories, that include NABL accredited laboratories, to understand the modalities to increase access to the tests while ensuring appropriate safeguards. 
16:52 pm: Nehru Science Centre in Mumbai to remain closed for the visitors from 16th to 31st March 2020, in the wake of Coronavirus outbreak.
16:50 pm: Russian Embassy official: A Russian delegation led by Deputy Prime Minister Tatyana Golikova has cancelled their visit to India, due to Coronavirus. The meeting was expected to be held in March.
16:46 pm: All kendriya vidyalayas in Delhi to announce annual results through email, WhatAapp due to coronavirus outbreak.
16:39 pm: All ministries asked to install thermal scanners at government buildings in wake of COVID-19
16:00 pm: All gyms, recreation centres, creches located in government buildings asked to be closed: Official order.
14:53 pm: Gulf airline flydubai temporarily suspends its services to India for a month due to travel and visa restrictions in the wake of coronavirus outbreak.
14:49 pm: Battling rising number of novel coronavirus cases, the Maharashtra government suspends the use of breath-analyser for testing drunk driving cases.
14:32 pm: The Central Information Commission limits hearings to urgent matters and only through video and audio conferences till March 31 in the wake of the coronavirus pandemic.
14:30 pm: COVID-19 case rumour triggers panic in Maharashtra secretariat.
14:22 pm: Health Ministry announced to expand compulsory quarantine for a minimum period of 14 days for passengers coming from/transiting through UAE, Qatar, Oman, and Kuwait. This will come into effect from 12:00 GMT on March 18 at the port of the first departure. This will be in force till March 31.
14:19 pm: Tiger reserves, sanctuaries, national parks and zoos in the state to remain closed till 31st March 2020, in the wake of coronavirus outbreak.
14:07 pm: After Shirdi Saibaba Temple, Shani Shingnapur shrine to remain closed till further notice
13:58 pm: Karnataka Health Minister B Sriramulu visited the Wenlock District Hospital in Mangaluru to check the hospital's preparedness for COVID-19.
13:53 pm: Rajghat in Delhi has been closed till 31st March due to Coronavirus. Total 8 positive cases have been reported in the capital.
12:56 pm: 3 more people test positive for COVID-19 in Union Territory of Ladakh. 2 cases from Leh, 1 from Kargil district; Total positive cases in Ladakh is now 6.
12:52 pm: The 63-year-old male patient, who died of coronavirus in Mumbai today had high blood pressure, pneumonia, and inflammation of heart muscles along with increased heart rate, which led to his death. He had tested positive for COVID-19
12:37 pm: Delhi: Qutub Minar has been closed till 31st March due to coronavirus
Delhi: Qutub Minar has been closed till 31st March due to #Coronavirus. There are total 8 positive cases in the national capital. pic.twitter.com/gnk5wtDD3Y

— ANI (@ANI) March 17, 2020
12:26 pm: Pune shops shut down for three days on the call of Federation Of Association Of Pune due to Coronavirus. 
Maharashtra: All shops in Pune have been shut down for three days on the call of Federation Of Association Of Pune due to #Coronavirus. Total 39 positive cases have been reported in the state. pic.twitter.com/89AWtQB2of

— ANI (@ANI) March 17, 2020
12:17 pm: Union Health Minister Dr Harsh Vardhan praised doctors and other medical personnel for their efforts to tackle coronavirus. He said, "To safeguard oneself, doctors across the country have been working honestly while taking all risks - I think there are not enough words to appreciate them. I thank all the doctors and paramedics of the country, on behalf of all of you."
"The doctors, paramedical staff, pilots, airlines' staff and especially those Indians who braved this critical situation & brought back Indians from other parts of the world, despite social distancing being the best way," he added.
12:15 pm: The total number of confirmed cases reaches 126 in India. 
12:06 pm: Coronavirus is like a tsunami: Congress MP Rahul Gandhi
#WATCH Congress MP Rahul Gandhi: It is like a tsunami is coming. India should be preparing itself not just for #Coronavirus but for the economic devastation that is coming. I am saying it again & again. Our people are going to go through unimaginable pain in the next 6 months. pic.twitter.com/Pk6cMDVhNr

— ANI (@ANI) March 17, 2020
11:54 am: All gardens and parks have been temporarily closed in Jammu and Kashmir due to Coronavirus. A total of three positive cases have been reported in the union territory.
11:37 am: Initial talks are on for involving private labs to conduct COVID19 tests: Indian Council of Medical Research officials
11:28 am: V Muraleedharan, Union Minister of State for External Affairs is in self quarantine in Trivandrum, Kerala
11:16 am: Cabinet Secretary holds meet with senior officials from the Indian Council of Medical Research (ICMR), Union Health Ministry and senior officials from other ministries, over coronavirus outbreak
11:05 am: Devotees gather in huge numbers at the Hanuman Temple in Patna today
Bihar: Devotees gather in huge numbers at the Hanuman Temple in Patna today. No cases of #Coronavirus have been reported in Bihar. pic.twitter.com/5QyFHAZ3PN

— ANI (@ANI) March 17, 2020
10:59 am: 64-year-old COVID-19 patient passes away at Mumbai's Kasturba hospital
10:41 am: Government of India prohibits the travel of passengers from Afghanistan, Philippines, Malaysia to India till 31st March, with immediate effect
10:29 am: Two persons test positive for Coronavirus in Uttar Pradesh's Noida; one in Sector 78 and another in Sector 100 with travel history to France. Both are admitted in designated isolation hospital
10:27 am: 63-year-old doctor, who treated the 76-yr-old man who died due to coronavirus in Karnataka's Kalaburagi, has tested positive for COVID-19. He along with his family has been kept in quarantine at his home. He will be sent to the isolation ward today.
10:24 am: Amazon Founder and CEO Jeff Bezos is in touch with the White House offering assistance to combat the growing new coronavirus (COVID-19) pandemic that is spreading across the US, President Donald Trump has said.
10:22 am: In an attempt to contain the spread of novel coronavirus, the Odisha Government has made it mandatory for foreign travellers to register their names on return to the state and avail an incentive of Rs 15,000 for registration and home isolation. Anyone who comes to Odisha from abroad has to register himself/herself mandatorily with the toll-free number 104 or the online portal. https://covid19.odisha.gov.in​
10:11 am: The Tibetan parliament-in-exile on Tuesday curtailed its budget session for fiscal 2020-21 to one day from 10 days in the wake of the coronavirus outbreak.
10:03 am: In a bid to protect police personnel from novel coronavirus infection, Maharashtra Highway Police has suspended breath-analyser tests needed to check drunk driving. A circular in this regard was issued by Vinay Kargaonkar, Additional Director General of Police (ADGP), Maharashtra Highway Police.
09:54 am: Ministry of Health and Family Welfare: Total number of confirmed COVID-19 cases in India is 125​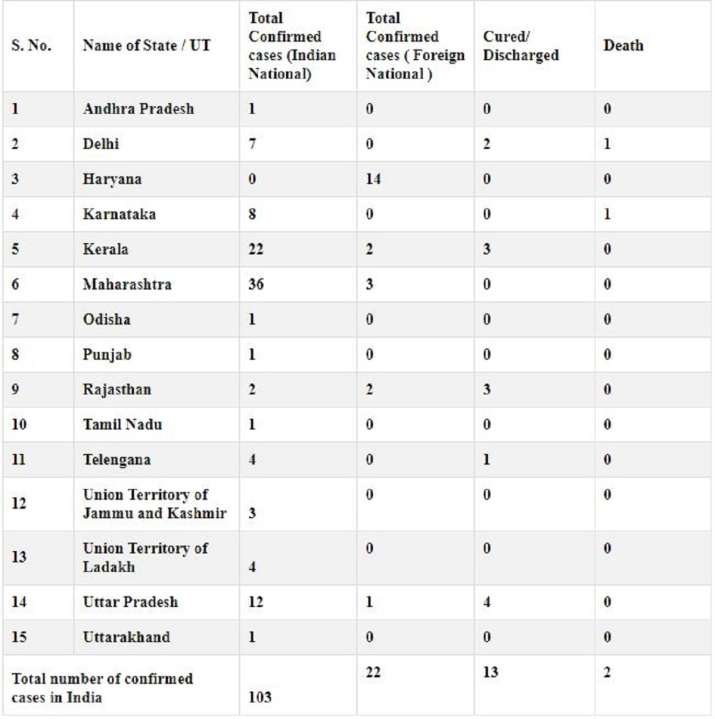 09:53 am: Iranian authorities have closed the doors of Shia shrines in the religious cities of Mashhad, Qom and Shahr-e-Rey, amid the rise in the number of coronavirus cases and deaths in the country.​
09:52 am: Dagdusheth Halwai Temple in Pune has been temporarily closed due to Coronavirus​
Maharashtra: Dagdusheth Halwai Temple in Pune has been temporarily closed due to #Coronavirus. Maharashtra has a total of 39 positive cases. pic.twitter.com/pdhjsZ9Etj

— ANI (@ANI) March 17, 2020
09:51 am: Total confirmed coronavirus cases in Delhi at 125 - including 13 cured patients and 2 fatalities​
09:49 am: French Interior Minister Christophe Castaner said that some 100,000 police officers will be deployed across France to secure the nationwide lockdown imposed to stem the fast circulation of the coronavirus.​
09:46 am: MGM Resorts International and Wynn Resorts Ltd., the two major casino operators in Las Vegas, have announced that they would temporarily shut down their properties as a precautionary measure to contain the spread of the novel coronavirus.​
09:42 am: The number of active coronavirus cases in Italy has reached 24,747, but the increase was at its slowest pace since March 1, signalling the start of a tipping point for the outbreak in the country, deemed as the epicentre of the pandemic in Europe​
09:38 am: All weekly markets in Lucknow have been suspended till March 31 while the Lucknow zoo has also been shut down due to the COVID-19 scare​
09:25 am: The IIT-Kanpur, after cancelling annual technical festival 'Techkriti' and suspending classes for students, has now asked the students to vacate hostels.
09:13 am: The Yogi Adityanath government in Uttar Pradesh has warned of strict action including jail for those who do not cooperate in the state's efforts to control the novel Coronavirus outbreak and spread misinformation or rumours to create panic in the society.​
08:57 am: Ministry of Health and Family Welfare has issued guidelines on use of masks by public​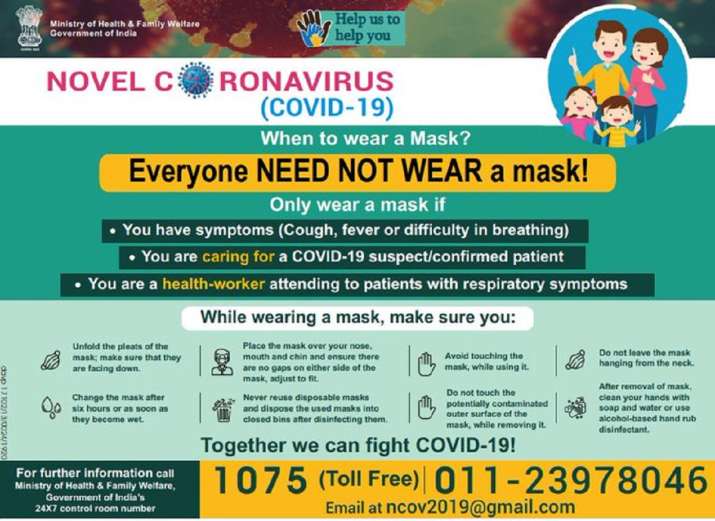 08:53 am: Maharashtra: Pune's Shaniwar Wada Fort temporarily closed for public, due to Coronavirus​
Maharashtra: Pune's Shaniwar Wada Fort temporarily closed for public, due to #Coronavirus. Maharashtra has a total of 39 positive cases. pic.twitter.com/ohZUtx5v1z

— ANI (@ANI) March 17, 2020
08:26 am: Madhya Pradesh: Bhasma aarti at Mahakaleshwar temple in Ujjain held today morning as the temple remains closed for devotees in the view of Coronavirus​
Madhya Pradesh: Bhasma aarti at Mahakaleshwar temple in Ujjain held today morning as the temple remains closed for devotees in the view of Coronavirus. pic.twitter.com/j8kaC8FVNu

— ANI (@ANI) March 17, 2020
​
08:17 am: Nearly 14,000 new cases reported globally in 24 hours​
08:05 am: Coronavirus cases in Pakistan spike to 183​
08:04 am: France to introduce restrictions on movement starting from 11:00 GMT on Tuesday for 15 days, to try to curb the spread of COVID-19, says French President Emmanuel Macron
08:02 am: Idris Elba tests positive for coronavirus
08:01 am: 'Game of Thrones' star Kristofer Hivju tests positive for coronavirus​
07:59 am: EU borders, Schengen zone to be closed for 30 days, says French President
07:53 am: Two new confirmed cases of COVID-19 in Karnataka; total 10 positive cases in the state, says Karnataka Health Department
Also Read | France says people must stay home to slow spread of coronavirus
Also Read | Trump hails COVID-19 research as coronavirus vaccine makes 1st clinical trial​
​