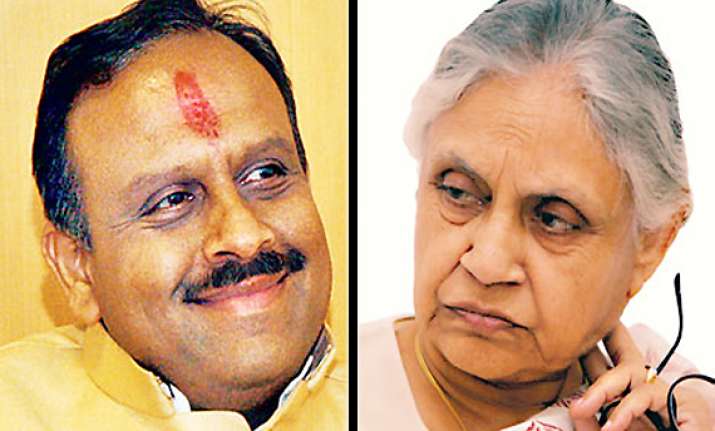 New Delhi, Apr 14: The denizens of the national capital will go to the polling booths on Sunday  to elect their local councillors in the civic polls.  
At stake are the prestiges of local Congress and BJP party bosses who have been toiling hard for the last one month.  BJP had won the MCD polls five years ago, but this time it  appears to be an uphill job.  
The civic elections are being taken as a "semi-final" for next year's Delhi assembly polls, which is 18 months away.Smaller parties like the Bahujan Samaj Party, Janata Dal-United, Rashtriya Janata Dal have their influence in certain pockets.
The polls to the 272 wards in the three civic bodies -- East, North and South -- carved out of the existing Municipal Corporation of Delhi (MCD) will begin at 8 AM and ends at 5:30 PM. The counting of votes will take place on Tuesday.
The municipal polls is seen as crucial for Delhi Chief Minister Sheila Dikshit and Congress as well as opposition BJP with leaders believing that it could be an indicator for what is in store for the Assembly polls.
BJP, which has 164 councillors in the undivided MCD against Congress' 67 and BSP's 17, harps on alleged corruption by Dikshit government while Congress is targeting the saffron party on its "inefficient and corrupt" administration in MCD.
The run-up to the polls also saw some embarrassment for BJP when one of its candidates, a sitting councillor, was arrested for allegedly murdering a partyman, who was opposed to him. Councillor Madhav Prasad was granted bail yesterday.
A total of 1.12 crore eligible voters will exercise their franchise in the polls which include 42.95 lakh voters in North Delhi Municipal Corporation, 42.67 lakh voters in South Delhi corporation and 27.16 lakh voters in East Delhi corporation.
There are 104 each wards in South and North Corporations and 64 in the East, of which 138 seats are reserved for women.
South has the highest number of 904 candidates followed by North (885) and East (634).
The total no of polling booths is 11572, out of which 275 polling booths have been declared sensitive, and 55 hyper-sensitive. 
More than 80,000 securitymen will be deployed for the civil polls.  
A record 2,400 candidates are in the fray. Counting will be done  at 33 centres.  
The polling booths declared hyper-sensitive are: Chandni Mahal, Jama Masjid, Jahangirpuri, Sarai Rohilla, Mayur Vihar, Welcome Colony, Jamia Nagar, Jaitpur, Sangam Vihar, Pul Prahladpur, Uttam Nagar, Najafgarh, Ashok Vihar, Gulabi Bagh, ranjit Nagar, Harsh Vihar, Okhla, Baba Haridas Nagar, Vasant Kunj, Neb Sarai, Gokul Puri, Nand Nagri, Khajuri Khas, Kanjhawla, Mongolpuri, Sultanpuri, Sadar Bazar, Bindapur, Nangloi, Chawla, Ambedkar Nagar, Pandav Nagar, Dabri, Govindpuri, Samaipur Badli, Jafrabad and Seemapuri.   
There are 104 wards  under North Delhi Municipal corporation having a voters population of 42.95 lakh. Narela, Burari, Jahangirpuri, Rohini, Mongolpuri, Pitampura, Shalimar Bagh, Shastri Nagar, Model Town, Jama Masjid, Chandni Chowk, Karol Bagh fall under this body.  
There are 104 wards under South Delhi Municipal corporation having a voters population of 42.76 lakh. Rajori Garden, Punjabi Bagh, Vikas Puri, Uttam Nagar, Lajpat Nagar, South Extension, Hauz Khas, Vasant Vihar, East of Kaliash, Greater Kailash, Kalkaji, Zaqir Nagar falls under this body. 
There are 64 wards under East Delhi Municipal corporation having a voters population of 27.16 lakh. Mayur Vihar, Shahdara, Patparganj, Preet Vihar, Sonia Vihar, Gokul Puri, Ashok Nagar, Trilokpuri  fall under this body.
PTI adds:
Presence of rebels and independents are also keeping both the BJP and the Congress on their toes as they believe that they could play spoilsport for them.
The two parties have also expelled a number of leaders to send a strong message to their cadre. 
As the campaign entered a hectic phase, Dikshit and her cabinet colleagues, Union Minister Ajay Maken and DPCC chief Jai Prakash Aggarwal had hit the streets.
From the BJP side, almost all Delhi leaders, including Leader of Opposition in Delhi Assembly V K Malhotra and Delhi BJP chief Vijender Gupta are on campaign trail. 
Gupta has earned the wrath of a section of his partymen over denial of party tickets. There was also criticism from within the party about poll ticket to his wife Shobha from Rohini Central ward where she is pitted in a direct fight with Congress' Dr Monica Puri.
While BJP has fielded Delhi Mayor Rajni Abbi, Leader of MCD House Subhash Arya and MCD Standing Committee Chairman Yogender Chandolia, it omitted prominent councillors like Jagdish Mamgain from the electoral scene.
After BJP (272) and Congress (271), BSP has fielded the highest number of 254 candidates followed by Samajwadi Party at 105, NCP (81) and LJP (68).
Kashmir-based National Conference, Orissa's Biju Janata Dal and Muslim League have fielded one each candidate while CPI(M), CPI and Forward Bloc have fielded 35 candidates together.
BJP-ally JD(U) has fielded 43 candidates.  Panthers Party has fielded 15 while JD(S) has 13 nominees in the fray, besides Lalu Prasad-led RJD's 23 and Ajit Singh-led RLD's 20.
Congress leaders claim that they have fielded 110 candidates below the age of 40 years, including 30 who are below 30 years. BJP has fielded eight candidates who are below 30 years.
One of the interesting fight will be in Zakir Nagar where terror accused Zia-ur-Rehman is fighting the elections from behind the bars. His family and supporters are campaigning on his behalf.
An analysis by Association of Democratic Reforms (ADR) said that BJP has fielded the highest number of 39 candidates with criminal background followed by Congress (28). The report was done after the NGO went through 1,485 affidavits of poll candidates.
On the assets front, it said Congress has fielded a maximum of 116 crorepatis while BJP has fielded 103 crorepatis.
There are 342 crorepatis contesting the election and BJP candidate Satvinder Kaur Sirsa, contesting from Punjabi Bagh ward tops the list of crorepatis with assets worth Rs 112 crore followed by Karuna Bhalla, BJP candidate in Khyala with assets worth Rs 50 crore.