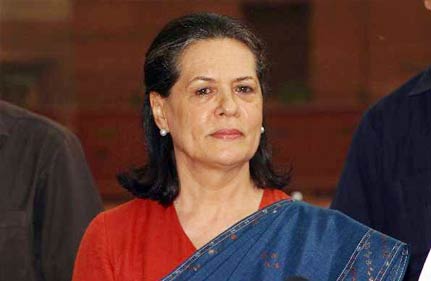 New Delhi/Patna, Nov 24: Describing its poor showing in Bihar as not surprising, Congress today said it will have to start from the scratch in the state while the RJD said it was baffled by the poll results.
Congress president Sonia Gandhi, who congratulated Bihar Chief Minister Nitish Kumar on the landslide victory of the JD(U)-BJP combine, candidly admitted that her party was not expecting to make big inroads in the Bihar assembly polls.
"As far as our party is concerned, we did not have much hope. We took a deliberate decision not to work in alliance with other parties. Results obviously indicate that our party has to start from the scratch to rebuild itself and that is what we plan to do," Gandhi told reporters at her 10, Janpath residence while reacting to the Bihar poll results.
Congress spokesperson Manish Tewary said, "We had decided to go alone to rebuild our party in the state. It was a difficult decision when we decided to go alone. By going alone
Hoping that Congress will stage a comeback in the state he said, "Ultimately the position we have taken will stand vindicated (one day)."
RJD supremo Lalu Prasad today said he accepted the defeat with humility.
"I congratulate Nitish Kumar not the BJP for the success story... though we accept the people's mandate with humility, we will soon undertake a thorough review what led to such astonishing results," Prasad told reporters in Patna.
He said "now when people have reposed faith in Nitish Kumar, they will like to see that the promises made by Kumar be completed in a time-bound manner."
Congratulating JD(U)-BJP on their good performance, Brinda said, "We all congratualte Nitish Kumar for the victory in Bihar. His alliance has made a record victory in Bihar".
A euphoric BJP termed the poll outcome as a victory of meritorious leadership over dynastic politics with a message for the future of Indian politics that a membership of a family or dynasty does not count.
Senior BJP leader Arun Jaitley said the election results have showed that politics of Bihar has changed and that "charisma or family" does not win elections, in an obvious attack on RJD chief Lalu Prasad and Rahul Gandhi who campaigned for Congress.
"It is a vote for the future of Bihar...the NDA ran a government with maturity and integrity,"he said.
Describing the victory in Bihar as "unprecedented", party leader Sushma Swaraj said the election results indicated that only those governments will sustain which work for development.
"The message of the Bihar election is that the governments which work for people, which ensures development will only able to come back to power".
Sharing the view, BJP president Nitin Gadkari said the election results have made it clear that only "politics of development" worked in the country.
"This (victory of NDA) proves that there will be no space for politics of caste in 21st century politics. Politics of progress and development are only possible," he said.
JD(U) president Sharad Yadav said people of the state have appreciated the developmental work carried out by the ruling combine. PTI