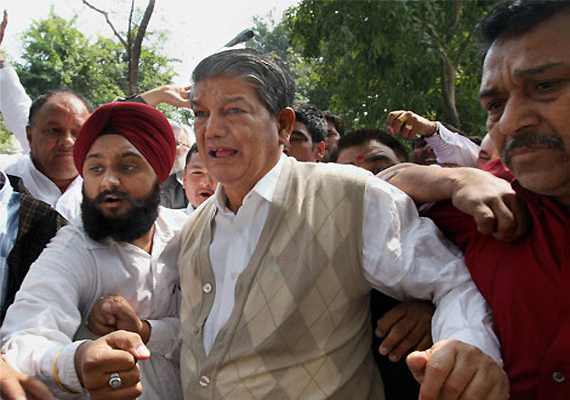 Dehra Dun, Mar 15: The crisis in the ruling Uttarakhand Congress persisted as 17 of the 32 party MLAs supporting Union Minister Harish Rawat, abstained from taking oath in Uttarakhand Assembly today. 

MLAs of the Rawat group did not take oath, which was administered by Protem Speaker Shailendra Mohan Singhal, because they are still holding protests at New Delhi, Congress sources said.

A total of 15 party MLAs today took oath in Vidhan Sabha.

Soon after Vijay Bahuguna was named the new Chief Minister, Harish Rawat rebelled claiming the support of 17 of 32 Congress MLAs in the 70-member Assembly.

However, Pritam Singh, a Rawat supporter from Chakrata constituency, defended the protest saying they only wanted to raise certain issues before the high command.

"This is not a revolt. Sonia Gandhi is our leader and we are raising our issues at the party forum only," Singh told reporters.

When asked why the other MLAs did not turn up to take the oath, Singh said he did not know the reasons but he himself took oath because he was an elected MLA.

Some MLAs, including Kunwar Pranav Singh, who were seen supporting Bahuguna also did not turn up, the reasons for which were not immediately known.

Senior party leaders Harak Singh Rawat and Indira Hridayesh were also absent in the Assembly. They are also understood to have given their support to Rawat.

Meanwhile, all three independents and Pritam Singh Panwar, the lone MLA from Uttarakhand Kranti Dal [UKD] took the oath.

Later talking to reporters, Mantri Prasad Naithani and other Independents said they were expecting Cabinet berths in the Bahuguna ministry.

"We will not compromise anything below Cabinet rank," Naithani said.

Significantly, all the three Independents have also floated a separate group called Progressive Democratic Front in an apparent move to keep pressure on Bahuguna.

Most of the 31 BJP MLAs took the oath.

Initially, confusion marred the swearing-in ceremony as the media was not allowed to enter the press gallery.

However, after the intervention of the Chief Minister Vijay Bahuguna, the media men were allowed inside.