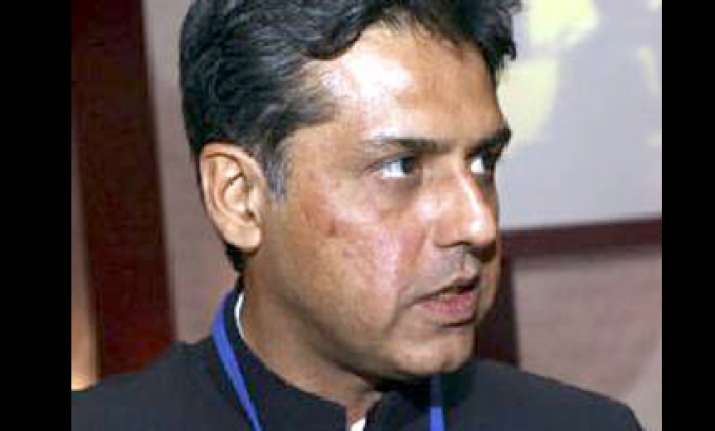 Congress on Monday  demanded  the resignation of Guajarat Chief Minister Narendra Modi asking in the wake of his grilling at the hands of the Supreme Court-appointed SIT going into the 2002 riots. 
It also questioned  BJP's claim to being a party with a difference referring to Modi's  difficulties in connection with post-Godhra riots and  L K Advani's in the Babri Masjid demolition case.
Party spokesman Manish Tewari went ballistic against Modi describing his action of sharing the dais with the Chief Justice as "shameful", just a day after he being interrogated by the  SIT. 
In fact, Modi should have been removed as the Chief Minister the day the preliminary enquiry was launched against him in the wake of the 2002 post Godhara riots in Gujarat, he said. 
"If there was any dignity left in him (Modi), he would not have gone to the function. He had gone there deliberately to embarass the Chief Justice. What the CJI can do when the Chief Minister of a state becomes so shameless?", Tewari said at the AICC briefing.
 Asked as to why no SIT was formed in 1984 anti-Sikh riots and no one questioned despite Rajiv Gandhi's statement after the assassination of Indira Gandhi that the earth shakes when a big tree falls, Tewari shot back saying BJP "wants to turn every issue into a poltical football". 
He said whatever happened in 1984 was unfortunate and Congress leaders have expressed shock and anguish over the riots then. Besides, he wondered what the BJP did for the riot victims when they were in power for six years at the Centre. 
He said that political philosophy of BJP was based on fear and terror and it believed in the politics of lumpen ism and violence that even extends to complicity of its leaders in murders, mass murders and riots. Congress sources said that the party strategy would be to corner Modi as the full truth of the Gujarat massacre was unlikely to come out till he is at the helm. 
Attacking Advani after the deposition Anju Gupta, his Personal Security Officer last week in a Rae Bareli court, Tewari said,"the former leader of the Opposition has said publicly many times that that December 6, 1992 (when the Masjid was demolished) was the saddest day of his life.
"But the recent witness of a responsible police officer has made it clear that Advani was overjoyed on the day...violence and murder is the basic idelogy of BJP and RSS and their only religion is fraud and deceit."  PTI