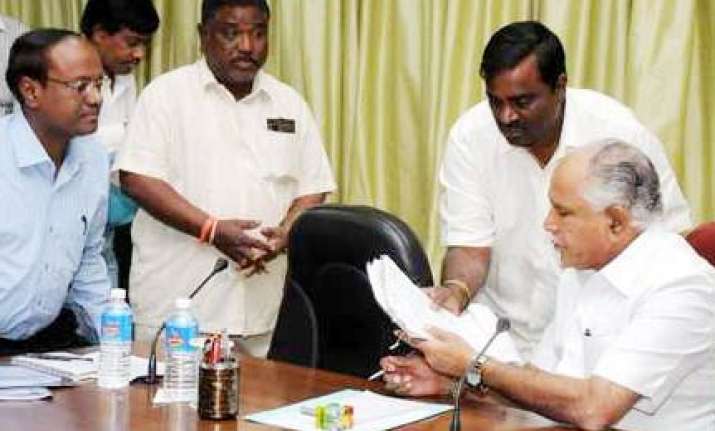 Bangalore, Oct 7: Embattled Karnataka Chief Minister B S Yeddyurappa, whose government was reduced to a minority following a revolt by 19 MLAs, today dropped two more rebel ministers and sounded upbeat on winning the October 11 trust vote amid efforts to reach out to dissidents.  
Taking the fight to rebel camp, Yeddyurappa removed Balachandra Jarkiholi and Anand Asnotikar from the Cabinet. Four dissident ministers were removed yesterday.  
At the same time, sources in ruling BJP said there were prospects of some dissident MLAs being made ministers, a move that could stem the threat to the BJP's first ever Government in the South.  
The BJP high-command deputed senior leader M Venkaiah Naidu who air-dashed to the city today to defuse the crisis which showed signs of wrecking the 28-month-old government yesterday after 18 legislators withdrew support.  
There was some silver lining for the chief minister when S K Bellubbi deserted the dissident camp and swore his loyalty to the Chief Minister, and party sources said more rebel MLAs are set to follow in his footsteps.  
The Chief Minister also appeared to take divine help to save his government when he rushed to the famous Rajarajeswara temple at Taliparamba near Kannur for a darshan. He said problems with dissidents would be sorted out through talks and was confident of passing the floor test.  
Party sources said threat of anti-defection law being invoked against them is weighing on the minds of the dissidents, whose unity appeared to be crumbling. The rebels were hopping from city to city since they left Bangalore yesterday and around a dozen of them are now in Goa.
"We are confident of proving our majority", Naidu said, adding, grievances of rebel MLAs would be looked into. The party is in touch with them to resolve the issue.  
He also reminded those MLAs who had directly submitted a letter to the Governor withdrawing support to the Yeddyurappa government, that the party could invoke the anti-defection laws against them.  
Tourism Minister G Janardhana Reddy, along with senior leader H N Anathkumar, who spearheaded in part the "Save Yeddyurappa campaign" worked overtime to win over dissidents. Significantly, Reddy had led the dissidents when the chief minister faced the revolt last year.  
"We have clear majority", Reddy said, adding,opposition leaders Siddaramaiah (Congress) and H D Kumaraswamy (JDS) would have to "hang their heads"  on October 11 (when the Government faces the trust vote)".  
State BJP President K S Eshwarappa said the Yeddyurappa government was not facing a crisis.  
"We are 100 per cent confident of getting a majority on October 11", Eshwarappa said. "There is no question of dissident activities in the BJP. Some MLAs are dissatisfied; they nurse desires and hopes of getting posts and positions", he said, adding, as a family, the BJP would resolve the issues amicably.  
Meanwhile, BJP sources said Bellubbi is likely to be made a Minister, along with dissident BJP MLAs Beluru Gopalakrishna and H S Shankaralinge Gowda in an attempt by the party to win over the rebels.  
Ministers S Suresh Kumar, V S Acharya and B Sriramulu have offered to quit, if required, to make way for induction of new faces, sources said. PTI