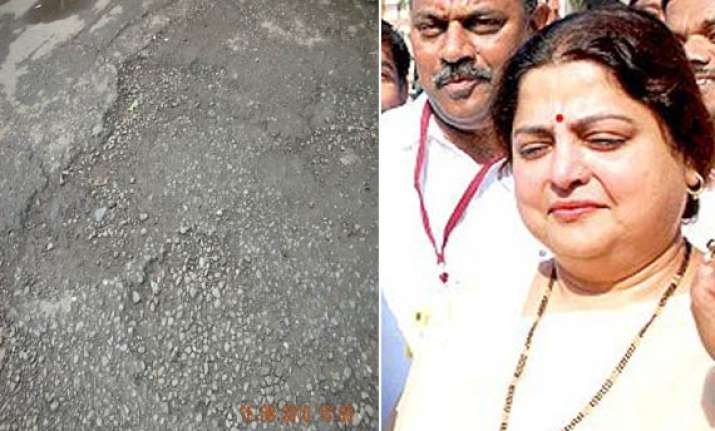 Mumbai, Jun 17: Satvasheela Chavan, wife of Maharashtra chief minister Prithviraj Chavan  has lashed out  at the administration over the poor maintenance of Mumbai's roads, reports DNA.

"The tax-paying citizen surely deserves better. The roads are so badly built that they give away with the slightest rain. We should have some mechanism in place so that the officials concerned face music over tardy work", said Mrs Chavan.

 Satvasheela Chavan experienced what the ordinary Mumbai has to bear every day when she travelled to Malad to inaugurate a rare and exclusive sari exhibition on Thursday.

"Bad roads have a multiplying effect on a range of problems. The repeated wear and tear of vehicles means people want to buy new ones and this takes a toll on the environment," she said in an exclusive chat with DNA.

Ironically, the chief minister is chairman of the MMRDA that has constructed the newly opened Lalbaug flyover. Chavan has ordered an independent probe into the quality of construction of the flyover after the appearance of craters on the Rs 150-crore viaduct within days of its inauguration.

An angry Mrs Chavan also said that traffic snarls due to the poor quality of roads compel motorists to speed up to make up for the lost time.
"This is what makes our roads dangerous," she pointed out.

The CM's wife further lamented the lack of adequate zebra crossings in Mumbai.

"Firstly, there aren't enough of them for a city of the size of Mumbai and secondly, wherever we have them, they are hardly painted or maintained," she said.
"Without zebra crossings, how does one expect the elderly, young children and the disabled to cross the road?
 
She added: "Earlier we were a poor country without adequate resources and this could be overlooked. But now we are an emerging economic superpower. Surely we have the wherewithal to have decent roads at least."

Earlier this week, Mrs Chavan's comments about the poor condition of roads and infrastructure in and around the temple town of Pandharpur had left many in the state administration red-faced.
 
"I've been going to the Pandharpur Vithhoba temple since the 1960s. Though the number of devotees has swelled, the roads remain in the same pathetic condition as they were in 1965. And it is not only the locals who are bearing the brunt. Devotees from across the country converge there in huge numbers twice a year," she pointed out and asked, "Why can't the authorities factor this in while making plans since they know this is an annual occurrence?"
 
She, however, refused to blame anyone in particular. "No matter what I say, it will be twisted to give it a political colour. This will lead to a controversy and take the focus away from the real issue of bad roads," Mrs Chavan said.
Chief engineer (roads) of the BMC, Pravin Badve, said the civic body is working overtime to address the issue of potholes. "All the ward offices have been informed to respond to every complaint as soon as possible. Rs40 crore has been earmarked for filling the potholes," he said. DNA