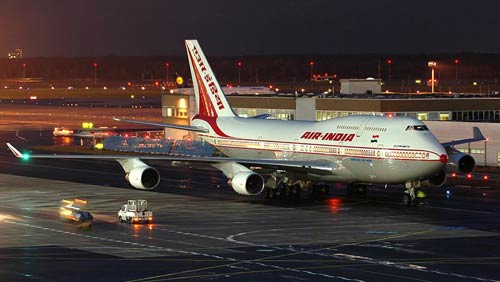 New Delhi, Nov 8 :Chaos broke out at the swanky new Terminal three of the Indira Gandhi International Airport here  last night as large number of passengers angered by delays in Air India flights raised slogans against the national carrier.
Angry passengers even took over the microphone at the public announcement system room near Gate nos. 22 and 24 at the Terminal three of the airport, sources said.
The passengers, who were angered by delays of Air India flights -- AI 841, 895 -- also shouted slogans against the national carrier and wanted to know why there were inordinate delays in flights.
The passengers were also angry as they did not receive baggage for hours after their flight landed at the Airport.
Passengers of AI 201 New York-Delhi alleged that they waited for three to four hours to receive their baggage. They complained that the conveyor belt was not functioning.
The angry passengers also had heated exchanges with Air India officials, who tried to pacify them.
There were unconfirmed reports that Air India flights to Gulf were delayed by at least three hours.
After failing to get a convincing reply from the airport and airline officials, the passengers shouted slogans against the national carrier.
Sources said a flight from Dubai could not find a parking space in the new terminal followng which passengers had to sit inside the aircraft for sometime.Airline sources acknowledged that there were some delays.
Sources said AI 841, which was supposed to take off at 20.15 Hrs took off finally at 2300 HRS, because of non- availability of parking bay at the new terminal.
An airport official said there was acute shortage in the parking space at the terminal which was resulting in delays in the flight operations.
Delhi's air space was closed for a long time on Sunday afternoon for the arrival of US President Barack Obama's Air Force One, resulting in congestion of incoming and outgoing flights.