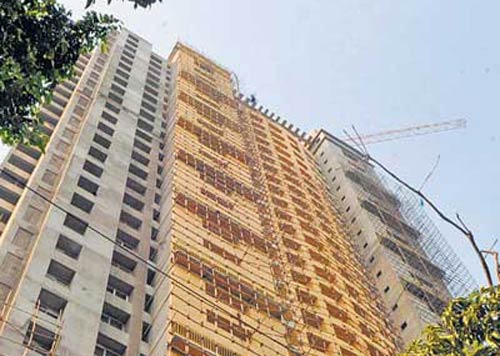 CBI detectives are wondering how a junior officer acting as chief promoter of Adarsh Housing co-operative society managed to allot flats to to Army officials, reports MidDay. He's a mystery man whom the CBI is trying to get more dope on. The agency believes he could hold the key to the Adarsh Society scam.
The CBI, which has been unofficially conducting a probe into the scam, is trying to procure details of R C Thakur, a military sub-divisional estate officer in the Colaba division in the year 2000.
Thakur allegedly managed to influence senior officials of the armed forces to incorporate them into the housing society and allot them houses. 
The CBI, which believes Thakur holds the key to unearthing details of the scam, will try to probe the extent of the fraud in terms of money and how Thakur may have gained by way of commission from those allotted flats in the society.
In 1999-2000, when the society came up with an application, Thakur was merely a sub-divisional officer and later went on to retire as an assistant defence estate officer of the Indian Army.
This has left CBI officials wondering how a junior officer was able to interact with officials of the highest rank in the hierarchy-conscious armed forces.
"It seems incredible that an official of his stature would have pulled off a scam of this level single-handedly. We even believe that Thakur could just be a frontman for big fish in the armed forces or from the state," said a CBI official.
Plot deepens
Though the CBI is yet to be officially told to investigate the scam, it conducted preliminary inquiries and collected information after it became known that defence land had been converted to develop the plot into a housing society.
Since there has been no official direction from the Government of India and it is yet to be cleared whether the land is defence land, CBI officials have been treading cautiously.
"If it is reasonably proven that it was defence land, we can probe every aspect of the land deal. But if proved otherwise, then the CBI can only investigate the acts and omissions of officials of the armed forces," a CBI official said.
"As of now, it is reasonably proved that the Khukri Eco Park, which was maintained and developed by the Army in 1996, was later made a part of the development of the society.
The army protected the park. Now we have to investigate thoroughly to know how the land was converted into a general plot from defence land. 
We have also been told that the park land was demanded by the armed forces in lieu of land given up by the armed forces at Santacruz," a CBI official added.