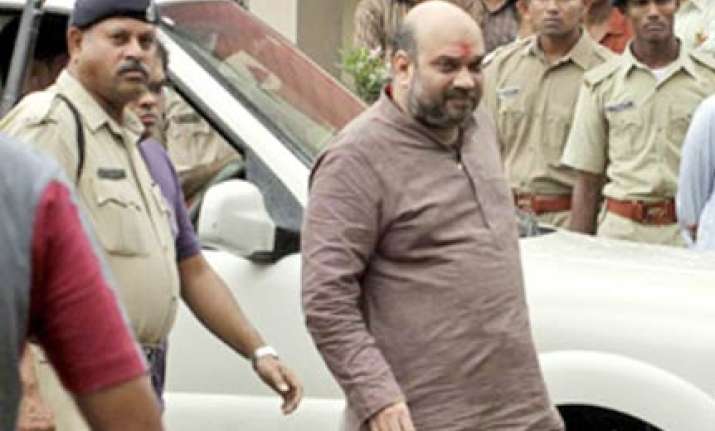 The CBI on Monday said it had not asked the Supreme Court to shift the controversial Soharabuddin Sheikh fake encounter case outside Gujarat in its probe status report, an issue that had drawn a sharp reaction from Chief Minister Narendra Modi.
 "We have not asked the Supreme Court to transfer the (Soharabuddin Sheikh fake encounter) case outside Gujarat in the status report submitted by us," senior CBI lawyer K T S Tulsi told a court during the hearing of bail plea of former Gujarat minister Amit Shah in the case.
 The CBI had in July 30 submitted its status report into its six-month-old investigation into the case in a sealed cover to the Supreme Court. 
The report of CBI, in which, according to sources, it had expressed doubts over the conduct of free and fair trial in Gujarat, had sparked an angry reaction from Modi who came down heavily on the Centre, saying that it was an "insult" of the state's judicial system. 
"I want to question the Central Government, tell me, If you consider Gujarat to be the part of India or not? Why is Gujarat being treated as if it were part of an enemy state?" Modi had asked.  Shah was arrested two weeks ago by CBI on charges of murder, kidnapping and extortion in the fake encounter case.  Sheikh was killed in an alleged fake encounter near Ahmedabad on November 26, 2005.
The Supreme Court on January 12 has handed over the investigation of the case to the CBI asking it to place before it the report on the progress of the probe within six months by July 31.
Meanwhile, the CBI on Monday moved a court seeking five days custody of former Gujarat minister Amit Shah in the Soharabuddin Sheikh fake encounter case.  
Senior Supreme Court lawyer K T S Tulsi, representing the investigating agency in the special CBI court of Judicial Magistrate A Y Dave, demanded five days remand of Shah giving reasons for it in a sealed cover.  
"We did not seek remand earlier because it was expected that Shah would recognise his obligation to assist CBI in the case. But it has not happened," Tulsi said.  
The agency's step to seek custody of Shah comes after his three day interrogation by the agency in the Sabarmati jail where he reportedly did not cooperate with the investigations.  
Shah is represented by another senior Supreme Court lawyer Ram Jethmalani. The hearing in the case is on at present in the court.  
Shah, a former Minister of State for Home and close aide of Gujarat Chief Minister Narendra Modi, was arrested by CBI in connection with the fake encounter case and charged with murder, extortion and kidnapping.  
The CBI had on July 30 submitted a status report in the Supreme Court after a six-month investigation. PTI