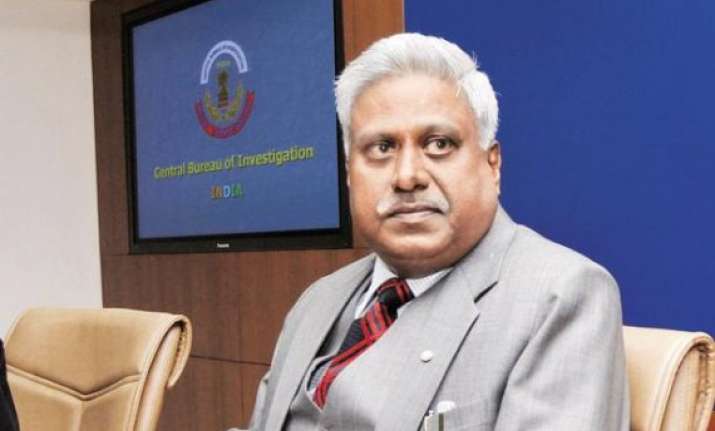 New Delhi: CBI Director Ranjit Sinha's frequent meetings with several accused and their representatives in 2G case is "definitely improper" and whether his conduct amounts to criminal contempt needs to be examined, Special Public Prosecutor in the spectrum scam has told the Supreme Court.
The SPP Anand Grover also urged the court to recall its order on knowing the name of the whistleblower who had leaked the documents including his guestlist register to advocate Prashant Bhushan, saying it should not insist on the issue.  Grover said people have a right to know the top cop's conduct as it does not pertain to his personal affairs and no law protects the confidentiality of information in the guestlist register which should be examined by the apex court.  
In his 15-page note, Grover said, "While the repeated meetings of the CBI Director and the representatives of the accused in 2G cases, during the investigation and prosecution of the cases, is definitely improper, it will have to be examined whether such acts amount to criminal contempt of court under the Contempt of Courts Act 1971 and they could prejudice, interfere or tend to interfere with the due course of judicial proceedings."
He said since the information is not related to the personal affairs of the Director, the citizens have a right to information regarding his conduct in his official capacity and he cannot claim violation of any constitutional right.  
"Given that the CBI Director had his camp office located at his residence, the information contained in the Register does not pertain to his personal affairs and rather appears to be a record of his professional meetings conducted in his official capacity.
"Further, the Official Secrets Act or any other statutory law does not protect the confidentiality of the information in the Register," the senior advocate, who was appointed SPP by the apex court, said.
He further submitted that miscarrage of justice may result if Bhushan is compelled to disclose the identity of the whistleblower and asked the court recall its September 15 order in which it had asked the name of whistleblower.
"It may have a chilling effect on this case by obstructing the potential flow of information and it may have implications on other such sensitive cases which depend significantly on information provided by whistleblowers," he said, adding the whistleblower highlighted "wrongdoing" in the CBI Department which should be looked into.
Even in the circumstances that contempt proceedings are initiated (against the Director), it appears that it will not be necessary that the name of the whistleblower be disclosed in the light of Director himself acknowledging the meetings, he said.