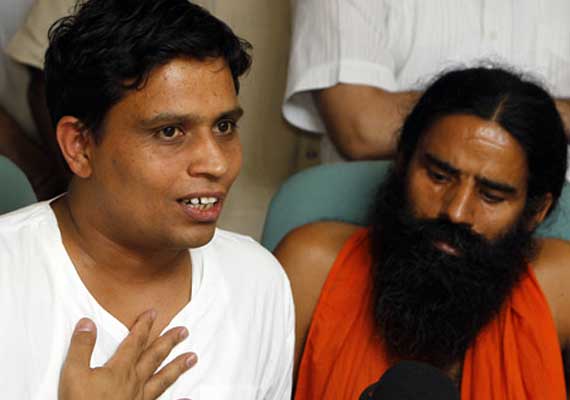 New Delhi, Jul 25 :  CBI has approached theExternal Affairs Ministry seeking revocation of the passport of Balkrishna, an aide for Yoga guru Ramdev, as the agency alleged that it was procured on the basis of fake documents. 

The agency has also issued a look-out notice against Balkrishna after it registered a case against him under section 420 (cheating) and 120-B (criminal conspiracy) for procuring the fake degree and violation of section 12 of the Indian Passport Act (knowingly furnishing false documents for getting passport), CBI officials said.  CBI sources said agency has written to the MEA to revoke the passport of Balkrishna.

"Since the passport is with him only, we have sought not only revocation of the travel document but also issuance of a Look out Notice against him so that he does not flee the country," the sources said.

The notice has been sent to airports, ports, major bus depots and border check points especially around the Indo-Nepal border.

Investigations on his citizenship were underway to ascertain whether he is an Indian or Nepali citizen, they said.

The Registrar of Sampurna Nand Sanskrit University, which issued the degrees, Rajnish Shukla said CBI matched records which showed that the enrolment numbers mentioned in the fudged documents belong to a different student.
Balkrishna's two degrees 'Purv Madhyma', a high school degree issued in 1991 and 'Shastri', a Sanskrit degree in 1996 don't figure in the university's records, Shukla said.  The documents show Krishna Sanskrit Mahavidyalaya, an affiliate of the university had issued the certificates which have been declared fake by the Vice-Chancellor of the University.

The CBI had taken all the documents from the Bareilly Passport office after the agency registering a Preliminary Enquiry (PE) to probe whether Balkrishna had acquired the travel documents using forged documents.

CBI officials said there were allegations thatBalkrishna had fudged certain documents and had acquired passport using forged documents which is a punishable offence under the Indian Passport Act.

The charges have been denied by Ramdev-controlled Patanjali Yogapeeth Trust. "Balkrishna's passport is valid. He got his passport about 12-13 years back. Why is the government now raising questions about it," Trust spokesperson S K Tijarawala had said earlier.

Besides questions being raised about his nationality, Balkrishna is under the scanner of the central investigating and law enforcement agencies for allegedly amassing wealth worth several crores of rupees disproportionate to his known sources of income. PTI