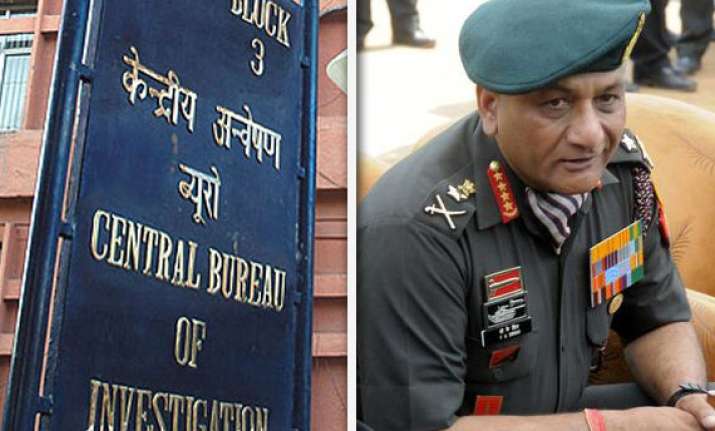 New Delhi, Mar 26: The CBI is expected to register a case soon to probe allegations of Army Chief General V K Singh that he was offered Rs 14 crore bribe to clear the purchase of some heavy-duty vehicles.
Agency sources said they have received a "reference" from the Defence Ministry to probe the matter and it has been processed as per the laid down procedure.  
CBI sources said a preliminary enquiry or an FIR could be registered soon after completing procedural requirements.  
The Army chief had claimed in a media interview that an equipment lobbyist offered him a bribe of Rs 14 crore, which he had reported to the Defence Minister.  
Terming Gen Singh's allegations as "serious", Defence Minister A K Antony told reporters, "We have to handle it...I have taken action."
The Ministry then recommended a CBI probe into the allegations received by the Army chief.
Defence Ministry sources have said the Army chief had informed the Minister about the bribe offer "only verbally" and no written information was provided.  
They said since the information was not provided in writing, no action was taken and now that the issue has become public, a CBI probe has been ordered into it.  
The Army chief has said the lobbyist offered him the bribe in order to have a tranche of 600 sub-standard vehicles of a particular make cleared for purchase.  
"Just imagine, one of these men had the gumption to walk up to me and tell me that if I cleared the tranche, he would give me Rs 14 crore. He was offering a bribe to me, to the Army chief. He told me that people had taken money before me and they will take money after me," Gen Singh said.
Asked abot Gen Singh's allegation, BJP leader Murli Manohar Joshi said, "Both the Defence Minister and the Army Chief should have acted immediately.
"It is a criminal act and nobody should be allowed to go scot free after offering a bribe," he told reporters outside Parliament.
Information and Broadcasting Minister Ambika Soni said, "Whenever such allegation is levelled by any senior official, the government makes sure that it is clarified."
"He (Gen Singh) has said a very serious thing in his statement and every thing should be made clear in black and white," she said.
On the statement of Gen Singh, former Army chief Deepak Kapoor said, "It is below my dignity to comment on the allegation."