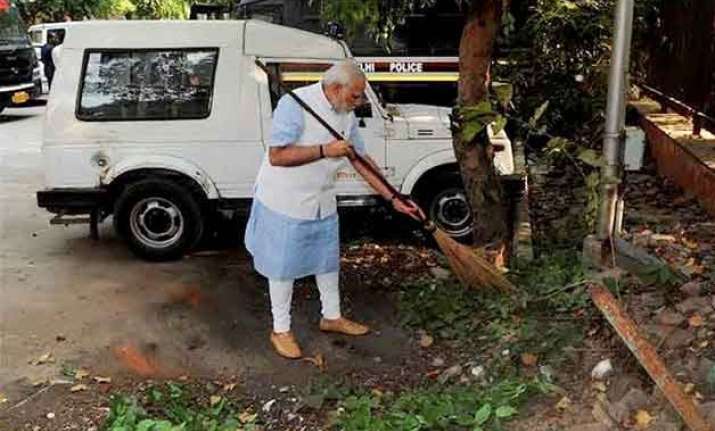 New Delhi: In a decision on Wednesday, Union Cabinet has cleared the way for setting up 'Swachh Bharat Fund'. By clearing, certain enabling provisions for a fund from individuals and companies, the government has opened up doors for the participation of the private entities in Prime Minister Narendra Modi's ambitious programme.
A senior minister of cabinet confirmed the news to PTI and said, "The Cabinet has approved enabling provisions for Swachh Bharat Kosh to enable people living in India and abroad and companies give funds for the clean Indian mission."
The contributions from any individual or companies will get tax exemption. The government hopes to fund the various programme under the mission by the donations from individuals and various organisations under the corporate social responsibility.
"Most of the fund will be channelised to construct toilets," the minister said.

Modi had on August 15 given a call to achieve the objective of clean India (swachh Bharat) by the year 2019, the 150th year of the birth anniversary of Mahatma Gandhi, through the Swachh Bharat Mission.
While the fund was launched in November last, the Cabinet approved certain enabling provisions to make it operational.

The fund will be used to achieve the objective of improving cleanliness levels in rural and urban areas, including in schools. It may also be enabled to bring out innovative or unique projects and girl toilets will be the priority area to start with, guidelines issued earlier said.
Using the donations, the fund will finance activities such as construction of new toilets as well as repair and renovation of dysfunctional toilets in rural areas, urban areas, elementary, secondary and senior secondary government schools, aanganwaadis.

They would also be used for constructing water lines to the toilets, training and skill development to maintain hygiene in the toilets as well as other activities to improve sanitation, it said.
With inputs from PTI