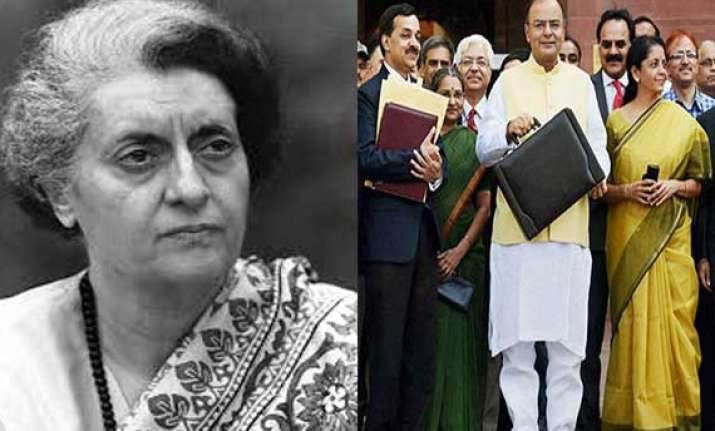 New Delhi: For years, almost every government programme was named after a member of the Nehru-Gandhi family.
But the NDA's first budget has finally recognized other leaders by unveiling four big schemes named after stalwarts outside the first family of Indian politics.
During the decade of UPA rule, 11 central government schemes were named after the Nehru-Gandhi family, mostly Rajiv Gandhi. Congress-ruled state governments had also launched 52 similar schemes.
Finance Minister Arun Jaitley proposed Rs.500 crore for Deen Dayal Upadhyay rural electrification programme. Upadhyay was one of the most important leaders of the Bharatiya Jana Sangh, the forerunner of the present-day Bharatiya Janata Party.
The Gujarat government's much-talked Statue of Unity project also got a Rs.200 crore boost from the Union government. The statue of Sardar Vallabhbhai Patel on Narmada river was launched by then Gujarat CM Narendra Modi in the middle of Lok Sabha poll campaign.
There was also a mention of Lok Nayak Jayaprakash Narayan, popularly called JP, whose 'Sampoorna Kranti' call during the Emergency led to the toppling of the Indira Gandhi government and formation of first-ever non-Congress government in the country. In the budget, Jaitley proposed to set up a Centre of Excellence in MP named after JP.
The budget also made mention of the Pt Madan Mohan Malaviya Teaching Programme to be started soon.
The recognition of Malaviya has a larger significance. He was a former national Congress president and founded Benaras Hindu University in Varanasi, which is Prime Minister Narendra Modi's constituency.
Some UPA flagship schemes like the National Rural Livelihood Mission, or Bharat Nirman, found no mention while the Nirmal Bharat Abhiyan has been repackaged as the Swatchh Bharat Abhiyan. Indira Vikas Patra is history with the launch of the Kissan Vikas Patra.
The budget also named one of the schemes after Jana Sangh founder Syama Prasad Mookerjee.