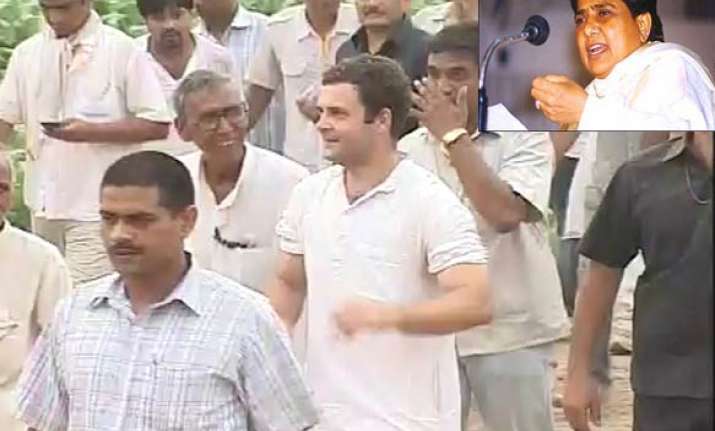 Lucknow, Jul 8 : UP chief minister Mayawati's ruling Bahujan Samaj Party has reacted strongly to Congress general secretary Rahul Gandhi's statement in which he said that dalals (touts/ middlemen) were running Uttar Pradesh.

The ruling BSP in a statement said it is an insult to the people of Uttar Pradesh who have given clear majority to the party to run the government for five years. The party has termed Rahul's statement as "irresponsible, childish and anti-Dalit". 

The party's spokesperson, in a press release, said such a statement indicates "political immaturity" of Congress's "Yuvaraj". The reality is that Congress-headed UPA government has been proved incapable of running the government and thus, Rahul Gandhi is looking for issues in a state like UP in his effort to divert people's attention from the Centre, the release said.

Criticising the Congress for "boasting against corruption", the BSP reminded it about the Bofors scandal which had dislodged the Congress from power. "The Congress has since failed to get a clear majority to form its own government only because of the Bofors scam," the statement said. It also referred to other corruption cases which have taken place under the Congress from time to time.

The press release said it is part of the Congress culture to give patronage to scamsters and corrupt persons. "On the contrary, the BSP is the country's only party which has struggled against corruption right from the day of its foundation,'' it added.

Rahul Gandhi on Thursday had alleged that 'dalals' are running Uttar Pradesh and accused her government of resorting to land grab to help "big builders".

"You are not together. Uttar Pradesh is divided and that is why dalals (brokers) are running the state," Rahul said, addressing farmers in Kirpalpur village, as he continued to woo them on the third day of his padayatra to Aligarh for the Congress-backed 'kisan mahapanchayat' on Saturday.

The AICC general secretary also promised that the Land Acquisition Bill to be brought before Parliament will be in favour of farmers.

Meeting groups of villagers at Kirpalpur, Jahangarh, and Kansera villages in Aligarh district to drive home his point how farmers were suffering after their land was "forcibly" acquired at cheap prices, he said the state's land acquisition policy was "full of flaws".

The land acqisition policies should be framed after talks with farmers and taking them into confidence, he said.

Elaborating on his comments on UP being run by 'dalals' Rahul said, "You may not like it. But this is true. Since you are not together that is why this is happening here. Unless you unite, you will continue to suffer. Unless you don't understand what is happening, the train will not come on its track."

Accusing the Mayawati Government of committing "land grab in favour of builders" in UP, Rahul said, "We will present the Land Acquisition Bill in the Lok Sabha and you will see that it will be passed in your favour.