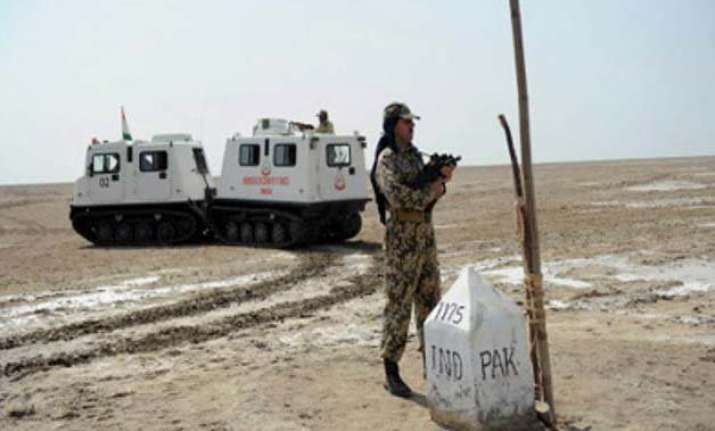 Rann of Kutch: BSF has reported a "perceptible increase" in economic activities across the marshy but mineral-rich Rann of Kutch frontier.
The force's top commander in the area, Inspector General (Gujarat Frontier) Santosh Mehra, told a group of visiting journalists that "activities" have been spotted on the other side of the border along the Rann and this had some connection with the economic development prompted by the discovery of hydrocarbons and minerals in the region.
"We have spotted field work at some places. We cannot give you details on that, it is confidential. But we do find in the wake of the recent developments... lot of hydrocarbons and lot of mineral resources have been discovered in those areas so they have become important from economic viewpoint.
"We see a perceptible increase in activities on that (Pakistan) side also... but not in sense of incursion into our areas but within their own borders we find there is greater activity," he said.
The BSF commander said the force, in view of the latest developments, is keeping a tight vigil in the area and maintaining effective domination of the border areas.
"It (exploration and similar activities) is an ongoing process for last two years... but we are fully prepared and have geared up ourselves accordingly and we are very confident and we have been doing it...our borders are 100 per cent secure," he said.
Asked if similar industrial explorations are being made on the Indian side also, Mehra said, "it is going on. Lot of industrialists have come...lot of industries have already come up. You would have heard of the Mundra Port, Adani Port and a lot of other chemical companies coming up."
He said the area, characterised by arid environment, marshes and shallow waters is attracting an increased commercial interest from industrialists and business houses.
"So, exploitation of natural resources on the Indian side has also gone up in a big way. And apart from this, as we know with 'Make In India' policy of central government and the Vibrant Gujarat meet held recently... subsequently we have received a lot of requests for No Objection Certificates (NOCs)...so a lot of economic activity is going to be happening in this area," Mehra said.
He said the Rann area could be potentially exploited for renewable energy sources through wind and solar power projects.
"This is an enormously untapped area. There is a lot of scope for exploiting solar power as well as wind power. A lot of companies have expressed interest," he said.
Talking about BSF's role in the extensive region, he said, "We come in the picture with a specific task of border guarding. But, wherever and whatever capacity we are asked, we are trying to be facilitators."