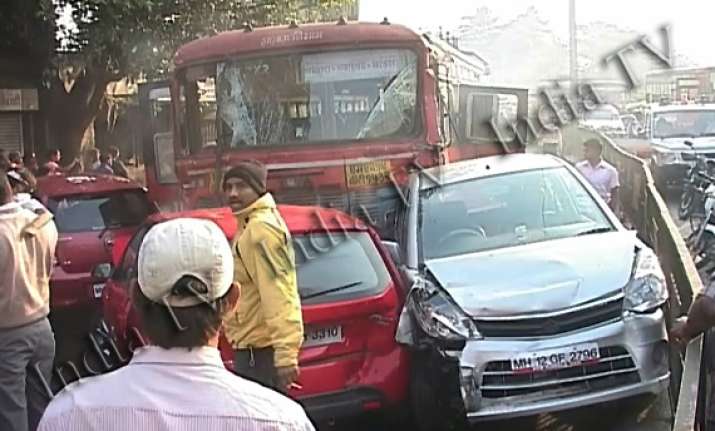 Pune, Jan 25: Following is the blow-by-blow account of Wednesday morning's panicky half an hour during which the killer bus driver Santosh Mane was on his deadly rampage: (it is based on accounts of eyewitnesses)

1. 30-year-old driver Santosh Mane  of Nashik had brought the bus from Gangapur last night to Swargate bus depot. He stayed there last night. 

2. He came out of the rest room at around 7:15 am and took his seat in bus no MH14 BT 1532  bound for Satara. 

3. There was no passenger inside the bus.  

4. Mane started the bus and raced it at a speed.




5. He ran over one person at the Swar-Gate transport depot itself and came out on the roads of Pune.

6. He took a round of the debot and entered it again. 

7. After making an inside round of the depot he came out again with the bus. 

8. He now went on the No Entry road towards Solapur. 

9. He then rammed into an  auto-rickshaw. 

10. On the way, he rammed into several seller carts. 




11. At the No Entry, he rammed into a Tata Indica car. 

12. On the way he rammed into all two-wheelers and vehicles that came his way.

13. After ramming into one or more vehicles, Mane used to do reverse gear and then proceed. 

14. At Seven Love Chowk, he ran over four persons. 

15. At Golibar Maidan, he ran over ten others. 




16. He rammed into a woman on a bike at Pul Gate. She died on the spot. 

17. It was here that Sharif Ibrahim Kutty saw him on the rampage. 

18. Kutty tried to follow him on a bike in a bid to stop the bus. 

19. To deflect Kutty, Santosh Mane hit the bus with Kutty's bike. 

20. He now entered Camp area, and from there he again entered No Entry for Solapur Rod and proceeded towards Swargate. 




21. At Seven love chowk  he took a left turn. 

22. Crossing Laxminarayan theatre, he reached Mitramandal chowk, where he crushed two more people. 

23. From here, he proceeded towards Singhgarh Road. 

24. Ibrahim Kutty has been consistently following him by this time. 

25. Frantic policemen were also on the trail of the rogue driver. 




26. At Singhgarh Road, police deflated the bus tyre by firing. Santosh Mane tried to  flee from the bus, but Ibrahim Kutty nabbed him at the end.