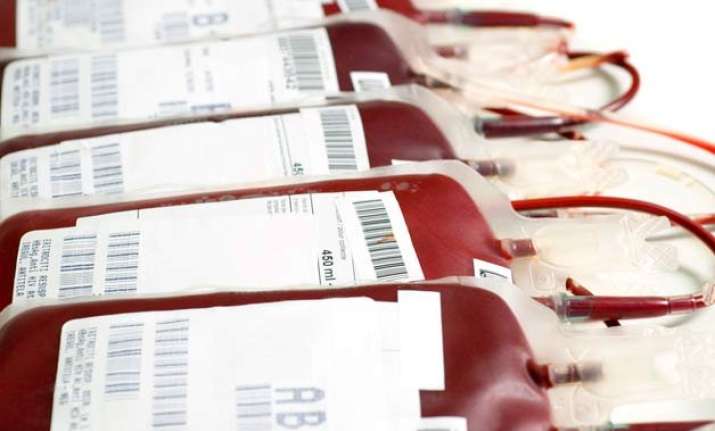 New Delhi: High costs charged by hospitals coupled with the lack of its availability have rendered the countless awareness campaigns encouraging people to donate blood futile. The lifesaving fluid continues to remain in short supply during emergencies, leaving millions of patients at the mercy of hospitals' whims.
According to a World Health Organisation (WHO) report, India faces shortage of blood to the tune of 3 million units annually. Data further shows that only nine million units are collected in a year against the requirement of 12 million units - reflecting a 25 per cent deficit. Things get worse during the summer when the shortfall hits as high as 50 per cent.
Besides pointing to a scary scenario for patients during times of emergency, it also reflects India's poor response in terms of addressing such a significant issue.
According to an RTI response furnished by the Union Ministry of Health and Family Welfare, India currently has 2760 licensed blood banks operating in the country. Of these, 304 are located in Tamil Nadu alone.
The situation is no different in Uttar Pradesh as well. Anil Madan, who looks after the functioning of the Rotary Blood Bank in the state, said, "Yes, we do face shortages sometimes. But we meet the emergency demand. The deficit is because of many reasons like non-availability of same blood belonging to same group and also on account of the taboo against exchanging blood with people of different castes."
These blood banks that solely rely on donors are just not enough to meet the country's huge demand for blood. If the situation in the national capital is any indication, hospitals in Delhi-NCR alone face a shortage of 100,000 units on an annual basis.
This despite the fact that prominent blood banks like AIIMS Blood Bank in the capital claim to have enough stock to meet all demands during an emergency. According to officials here, the hospital's main blood bank does not face any deficit.
 "The three blood banks of AIIMS work in a well-coordinated manner to cater to the needs of patients. We share blood between ourselves and our Blood Bank also supplies blood to other licensed government blood banks in case of need," Kabita Chatterjee, Additional Professor, Department of Transfusion Medicine, told Indiatvnews.com.
Only 1% eligible donors donate blood
According to the WHO, every country needs at least 1 per cent reserve of blood to meet any emergency. Experts are of the view that India's problem of blood can be solved if there is a slight increase in the number of donors. If only 2 per cent more people could come forward to donate blood, the shortage could be addressed, they say. At present, only 1 per cent eligible donors do so every day.
While a rise in the number of voluntary donors can potentially address the shortage and also dissociate several taboos and fears around blood donation, the real problem lies somewhere else.
In metro cities like Mumbai, major private hospitals and patients bank on the multitude of private blood banks that have made a business out of people's emergencies; a profitable one at that. These blood banks are time and again accused of overcharging patients for blood and its components despite standard rates being fixed by the National Blood Transfusion Council (NBTC), a body set up to ensure availability of safe blood.
Guidelines issued by the NBTC restrict all blood banks from charging anything beyond the processing charge for blood and blood components that they offer to a patient. On the contrary, a report by the Food and Drug Administration (FDA) points to a severe anomaly in the implementation of these rules set up by the authorised agencies.
32% blood banks found overcharging patients in Mumbai
As per the report, nearly 19 out of 59 blood banks in Mumbai (over 32 per cent) were found overcharging patients in 2014 alone. Absence of effective monitoring often leaves enough room for to blood banks and professional donors to extort unreasonable amounts of money from patients during emergencies. The amounts they charge for blood are usually exorbitant, often resulting in black marketing and transfusion of unsafe blood.
In fact, there are only a few blood banks operating in the country that actually offer blood to patients free of cost - AIIMS Blood Bank and the Rotary Blood Bank to name a few. "We do not charge any money from the general ward patients," said Kabita Chatterjee of AIIMS.
The absence of players who play by the rules and lack of information and rules that govern the transfusion of blood by hospitals, blood banks and donors has led to a situation which makes it easy for unaware patients to be fleeced. Rules state that hospitals cannot charge anything in exchange for blood from patients. However, the processing charges that it allows, leaves enough room for hospitals and others to overcharge patients. The rules do not clearly state what these processing charges account for.    
Dr Shamsuz Zaman, Associate consultant, Department of Transfusion Medicine, Dharamshila Hospital and Research Centre, New Delhi, said that the hospital does not charge anything specifically for blood, but they do charge for the processing of blood.