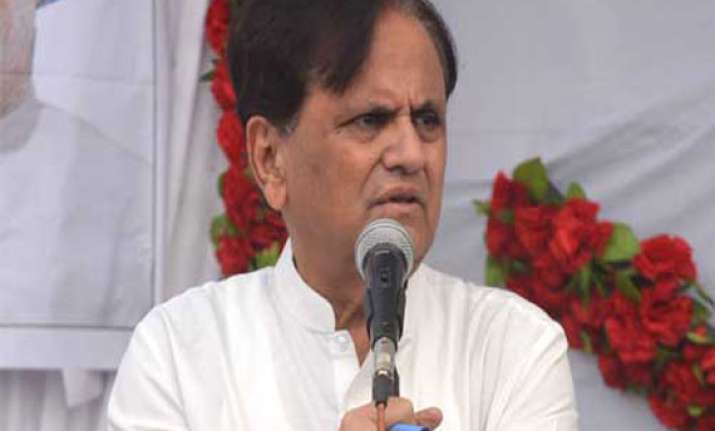 Vadodara: Congress chief Sonia Gandhi's Political Secretary Ahmed Patel yesterday accused Narendra Modi of 'spreading lies' across the country on Gujarat's development and expressed confidence about the party-led UPA retaining power at the Centre.
In a chat with newspersons last night, Patel dismissed talks of a 'Modi wave' and said UPA will form the Government after the Lok Sabha polls.  Congress will capture a majority of Lok Sabha seats in Gujarat, where polling for all the 26 constituencies will be held on April 30, he said.
Patel said Gujarat Government's development claims were hollow as there were 18 lakh jobless youths in the BJP-ruled state.
'Private companies were encouraged to set up power projects, while state-owned power stations were shut. About 45 per cent children suffer from malnutrition in the state,' the Congress leader claimed.
'Gujarat is a developed state based on ideology of Mahatma Gandhi and Sardar Vallabhbhai Patel. If both these leaders were alive today, they would not have approved of Modi's model of development.'
BJP and its Prime Ministerial candidate are 'spreading lies' about the State, the Congress leader claimed and said the saffron party has divisive ideology.  'Till now these lies were limited to Gujarat, but now they are being spread across the country.
Congress runs its campaign on principles and maintains dignity, while in BJP its one man show,' he said in an apparent reference to Modi.  Patel wanted to know from where BJP was getting huge fund to run its poll campaign.
The Congress leader questioned the timing of release of two controversial books, which have critical references to the functioning of Prime Minister's Office and UPA Government.
 After a brief halt here, Patel left for his native village Piramal, about 90km from from Vadodaa.