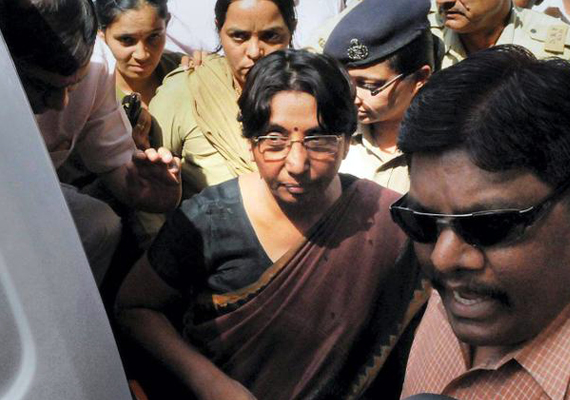 Ahmedabad, Aug 29:  In a jolt to BJP on the eve of Gujarat assembly elections, BJP MLA and former minister in the Narendra Modi government Maya Kodnani and a Bajrang Dal leader were among 32 people convicted by a special court today in the 2002 Naroda Patiya riots case in which 97 people belonging to the minority community were killed. 
Aditional principal judge Jyotsna Yagnik held Kodnani and Babu Bajrangi guilty under sections 120 (B) (criminal conspiracy) and 302 (murder) of IPC in the post-Godhra riots case, while acquitting 29 others.
The quantum of sentence is likely to be announced later.  The massacre had taken place a day after the Godhra train burning incident of February 27, 2002.  On February 28, 2002 when a bandh call was given by the Vishwa Hindu Parishad (VHP), a large crowd gathered in the Naroda Patiya area and attacked people belonging to minority community that resulted in the death of 97 people while 33 others were injured in the violence.
The trial began in August 2009 and charges were framed against 62 accused, one of the accused, Vijay Shetty, died during the course of trial.
As many as 327 witnesses, comprising eye witnesses, victims, doctors, police personnel, government officials, forensic experts and journalists including Ashish Khetan, who conducted a TV sting operation on the accused, have been examined by the court.
Initially, 46 people were arrested by the Gujarat Police, whereas 24 more people were apprehended after the probe was handed over to the Supreme Court-appointed Special Investigation Team (SIT) in 2008. In all, 70 people were arrested in the case.
Six persons died before the charges could be framed and trial started, while two others identified as Mohan Nepali and Tejas Pathak jumped bail and are still absconding.  Kodnani was arrested by the SIT when she was a minister of state for women and child development in Modi government in March 2009.
She was an MLA at the time of the incident.  The Naroda Patiya case was probed by eight investigating officers over the last decade with the latest being Himanshu Shukla on behalf of the Special Investigation Team (SIT).  The Naroda Patiya case was one of the nine cases of Gujarat riots being probed by the SIT, including the Godhra train burning case.
The other cases probed by SIT where judgements have been pronounced include the case in Ode village of Anand where 18 persons were sentenced to life imprisonment and five others to seven years in prison by a special court last month, for the killing of 23 persons on March 1, 2002. 
Last year, a special court had awarded death sentence to 11 and life imprisonment to 20 others in the Godhra train burning case where 59 persons were burnt alive in S-6 coach of Sabarmati Express train near Godhra railway station. 
Also, 31 persons were sentenced to life imprisonment by another designated court of Mehsana district in connection with Sardarpura riot case where 33 persons were killed during post-Godhra riots.
On July 30, 21 accused were sentenced to life imprisonment by a special court in another case of Dipda Darwaja area of Mehsana, where 11 persons were killed during 2002 riots.