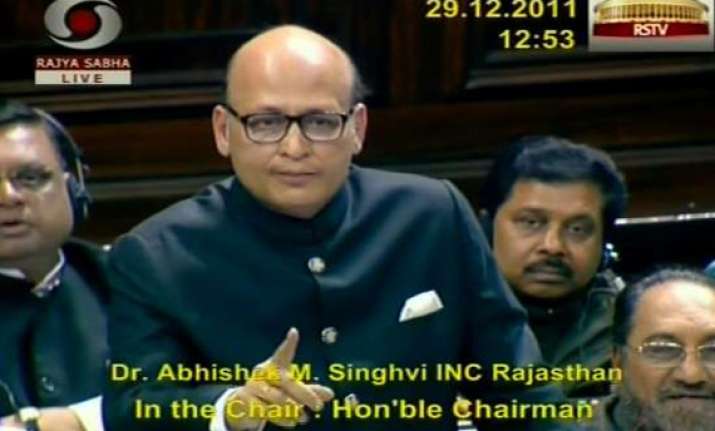 New Delhi Dec 29: Congress leader Abhishek Manu Singhvi today tried to demolish BJP leader Arun Jaitley's charges over the Lokpal Bill and told the Rajya Sabha that the BJP voted against the Constitutional amendment bill, only because the idea came from "our party general secretary (Rahul Gandhi)".

Participating in the daylong debate on Lokpal Bill, Singhvi said, giving constitutional status to the Lokpal was a good idea, and the BJP in its dissent note in the Standing Committee had supported such a status in writing, but when it came to voting in the other house, it opposed the Constitutional Amendment bill.

"It was not because BJP was opposed to the idea, it opposed because it came from the person concerned", said Singhvi as BJP members sat listening to him.

Singhvi began his speech by asking BJP whether "you want or you don't want Lokpal. Please do not give excuses and hide behind pretensions and do not mislead the nation".

The Congress leader said, putting a 70-year-old institution like the CBI and a 10-year-old institution like the CVC under the Lokpal would have been "creating a behemoth of unimaginable proportions, before which the PMO and the central government would have been like pygmies".

" Absolute power corrupts absolutely. It (Lokpal) would have been a breeding ground for big-ticket corruption", he added.
 
Referring to Jaitely's charge that forwarding preliminary inquiries to and fro the CBI, CVC and Lokpal would be like making a "jalebi", Singhvi pointed out that  CBI also probes criminal cases, and Supreme Court and High Court-referred cases too.

"If CBI probes Lokpal-referred cases and then refer them to the Lokpal for prosecution, then why should anybody object", he asked.
 
Singhvi said CAG and CVC are not "sarkari" bodies.

"They are totally independent but the cadre controlling authority always remain with the parent ministries.  For CAG, the cadre controlling authority is the Ministry of Finance, for Election Commission , the cadre controlling authority is the Ministry of Law, and for UPSC, the cadre controlling authority is the Department of Personnel and Training."

"Just because of state elections, or for scoring brownie points, you can't tinker with the Constitutional structure. Are we talking of anarchy just because it suits you? Please don't destroy institutions. There appears to be a method in madness. Don't destroy anything just because of expediency", said Singhvi.
 
On Jaitley's charge of government in the majority while selecting Lokpal, Singhvi said, the same pattern is there for selection of CVC, EC, CAG and NHRC chairpersons. "Do you want to say that government should be in a minority in selection?"
 
On Jaitley's charge of Centre poaching on state's subjects like Lokayuktas, Singhvi said, the Lokayukta provision has been brought under Article 253 of the Constitution which says that the Centre can make laws in the national interest in view of international covenants and treaties.

In this case, the UN Convention Against Corruption is the covenant, because of which Art 253 has been applied for Lokayuktas, and yet the states have been given freedom to make their own bills on Lokayuktas, Singhvi pointed out.
 
Even the NHRC and SHRCs Acts were made under Art 253 because of the UN Charter on Human Rights, he said.
 
Singhvi clarified that the government has kept its promises made in the "sense of the House" resolution on August 27, which included Citizens Charter, bringing lower bureaucracy, and setting up of Lokayuktas.

Nowhere was it said that the lower bureaucracy will be brought under Lokpal, he pointed out. "We have brought the whole of Class C staff which includes drivers, attendants, etc. under CVC instead of Lokpal, and have brought a separate bill for Citizens Charter. Is that not fully meeting the sense of the house", he asked.

Singhvi told Jaitley  that "you oppose only for the sake of  opposing. In Hindi, they call it not vaad-vivaad, but vitandavaad."

The Congress leader also clarified that no free legal aid will be given to persons charged with corruption under Lokpal bill.

"Legal assistance means a lawyer can appear on his behalf, it need not be free legal aid", he said.

He also clarified that private trusts were not covered at all under Lokpal.

It only covers those trusts who collect donations from the public, and the Centre may specify through notification the amount collected by the trusts, so as to come under the purview of Lokpal, Singhvi added.
 
"You're clutching at straws and creating a fear psychosis. Please remember, the largest slew of anti-corruption measures were taken only by this government and we have the courage of conviction", Singhvi said.