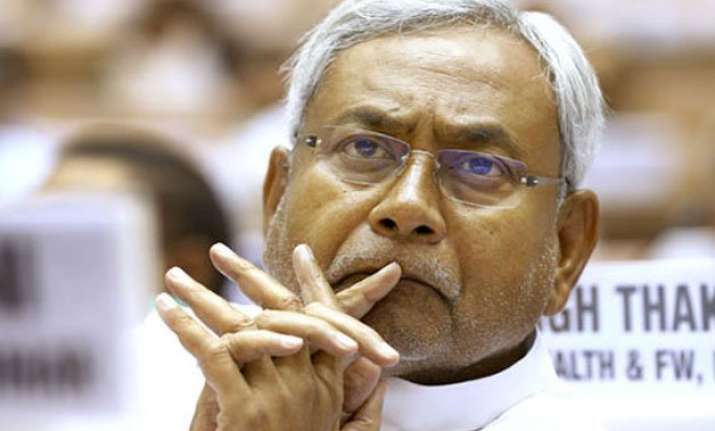 Patna: Opposition BJP today decided to boycott the all party meeting called by Chief Minister Nitish Kumar this evening on "loss" accruing to Bihar due to recommendations of 14th Finance Commission, accusing the CM of "playing politics" in view of coming Assembly poll B.
"I and Leader of Opposition in Assembly Nand Kishore Yadav will not attend the all party meeting on 14th Finance Commission recommendations called by CM Nitish Kumar this evening," leader of opposition in Legislative Council Sushil Kumar Modi told reporters.
Yadav echoed similar views. Sushil Modi alleged that instead of thanking the NDA government at the Centre for providing a huge sum of money by way of share in central taxes, Nitish Kumar was "cursing" it to score in the Bihar poll slated for later this year.
"The 14th Finance Commission has recommended to provide the highest amount of money to Bihar after Uttar Pradesh to the tune of Rs 3.81 lakh crore as share in the central taxes.
This is three times more than what Gujarat will get," he said. Besides, Bihar would get four times more fund for its panchayati raj bodies and urban local bodies than it used to get on the basis of the recommendations, he said.
"In the Railway budget as well in general budget Bihar's interests have been promoted by BJP government," he said.
"Instead of thanking the Narendra Modi government, Nitish Kumar is cursing the Centre to draw political mileage in coming Bihar poll," Sushil Modi, who was deputy to Nitish Kumar during NDA rule in the state, said.
Leader of Opposition in Assembly Nand Kishore Yadav told reporters separately that he received invitation for the all party meeting today around 12 o'clock in the day.
"Besides delay in invitation, no details of the subject has been mentioned...this all party meeting is farce and used by CM Nitish Kumar merely as a tool to derive political benefit for his JD(U)," Yadav said.
"Nitish Kumar who is going to Delhi to attend a meeting of CMs on the river Ganga should have sought time with the PM to discuss the issue. But instead of doing so, he is indulging in politics by calling an all party meeting," he added.
Earlier also Nitish Kumar had played politics while seeking special category status for Bihar, he added. Senior Minister Vijay Chaudhary criticised Yadav for complaining that the invitation for all party meeting had been send in an improper way.
"He has been invited for the meeting with due respect. Still he is complaining that the invitation for all party meeting had been send in an improper way.