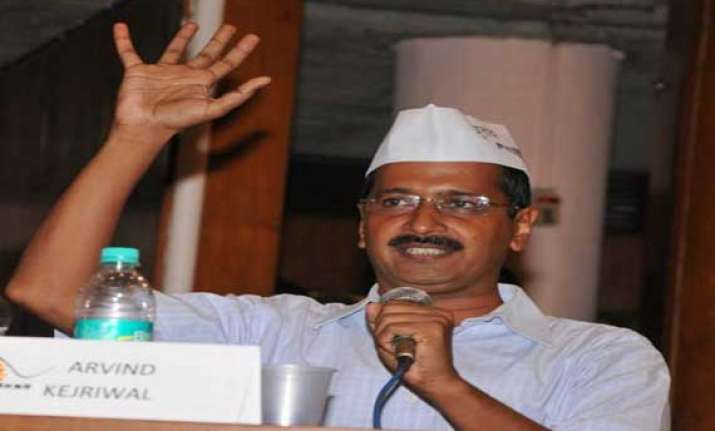 New Delhi: Aam Aadmi Party  leader Arvind Kejriwal on Monday accused BJP and Congress of pressurising the Lt Governor to defer Assembly polls in Delhi and said both the parties were "scared" of elections.
"If elections are held tomorrow, AAP will get 50 seats. They (BJP and Congress) pressurised the LG and deferred the elections. Why are they scared of elections? We went to the Supreme Court seeking dissolution of the House and asked for fresh polls," Kejriwal said at a rally in Dwarka in support of AAP candidate for West Delhi Jarnail Singh.
"The SC had sent a notice to both Congress and BJP, seeking their reply on the issue. Today, they were expected to respond to the notice, but both have sought more time. It raises question mark on their intentions," he said.
On gas pricing, Kejriwal said if his party gets all the seven Lok Sabha seats in Delhi, it will ensure that gas prices do not rise.
Kejriwal said that it was essential to defeat "emperors" of UPA and NDA to reduce inflation and corruption.
"Kumar Vishwas has said he will defeat Rahul Gandhi by over two lakh votes. If we defeat these emperors, Congress will break into pieces and BJP's situation will also deteriorate.
"After that there will be elections again in a year in which people will elect clean people," he said.
Countering the allegations that he ran away from his responsibilities, the AAP leader sought to justify his decision of quitting and lauded the achievements of his 49-day old government.
"I did not run away from Delhi. We were attacked four times in Gujarat. I was attacked once in Bhiwani, but let me tell you I will live, stay put and fight and make your (opposition parties) lives miserable," he said.
He also took a jibe on Congress President Sonia Gandhi's comment that governance is not a child's play, in an apparent reference to AAP.
Deflecting the Congress President's remark at her son Rahul Gandhi, he said, "She should not have said this about her son. He could be around 43-44 years and the Constitution does give him the right to become the Prime Minister."
Training guns on BJP's prime ministerial candidate Narendra Modi, Kejriwal said, "If Modi comes to power, he will bring FDI in retail. Modi keeps on saying that 'Bahut hua bhrastachar, apki bar Modi sarkar', but he could not control corruption in 12 years. We did it in 49 days."
He said the Modi government in Gujarat asked the Central government to hike the gas prices four times and sent three reminders for the same.
On water crisis in Dwarka, the AAP leader said he was looking into the issue and the only solution to it is bringing Dwarka under the jurisdiction of Delhi Jal Board.
"If Delhi gets Munak canal's water, the issue will be solved. I had also written to Haryana Chief Minister regarding this," he said.
Talking about his government's achievements, he said, "In my 49-day old government, we brought down electricity tariff by 50 per cent, gave 700 litres water free to each household per day and rolled back FDI in retail.
"We also constituted an SIT to probe anti-Sikh riots, about which BJP had been talking about for the last 30 years. Corruption level in various departments including police, transport and MCD came down during my government," Kejriwal said.
The AAP leader said that he quit the Chief Minister's post because BJP and Congress did not allow him to run the government.
"No one thought we would win 28 seats and this was a miracle. We did not have majority, but people wanted us to form the government. We undertook 282 sabhas and out of that, people in 257 gatherings asked us to form the government. We also gave 18 points to Congress and BJP and Congress agreed to it.
"When we started working, BJP and Congress got scared. The passing of Jan Lokpal, Swaraj and other bills, we had called a two-day session, but the two parties did not allow us to run the session.
On his sit-in protest at Rail Bhawan, Kejriwal said it was not a "drama", but his commitment for the protection of women.