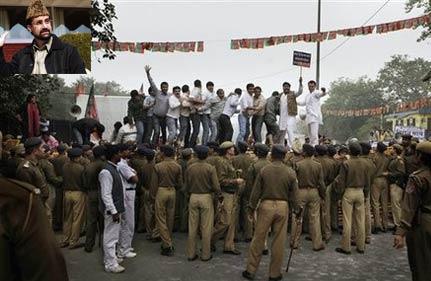 New Delhi, Nov 30: The youth wing of BJP today attacked Kashmiri separatist Hurriyat Conference Mirwaiz Umer Farooq's car when he was entering Foreign Correspondent's club here to attend a seminar.
As the news about his presence at the seminar came out, activists of Bhartiya Janata Yuva Morcha assembled outside the venue and shouted slogans against the Mirwaiz.
Shouting slogans like "Bharat Mata ki Jai" and "Vande Mataram", the demonstrators hurled eggs, water bottles and a few stones at the SUV of the Mirwaiz, damaging the windscreen of the vehicle.
Nearly one company (120 personnel) of CRPF and Delhi Police personnel escorted the Mirwaiz into the venue of the seminar.
"We are here to protest the Mirwaiz's presence. He should not be allowed to participate in any programme as he furthers anti-India agenda," BJYM activist Anil Sharma told reporters while he was being detained.
Some of the youths, who were being whisked away by CRPF, told the personnel of para-military force that it was ironical that they (CRPF) were trying to save a person who had been instrumental in tarnishing their image in the Kashmir Valley.
The commotion lasted for nearly 45 minutes before the protesters were whisked away in two buses.
This is the third attack on the Mirwaiz in last five days. Earlier, he was attacked on November 28 by members of BJP's student wing who hurled eggs at his vehicle here and displayed banners.
The Mirwaiz was coming out of an auditorium in Kolkata after attending a seminar on 'Kashmir- A Way Out' when members of Akhil Bhartiya Vidyarthi Parishad (ABVP), who were holding banners and shoes tied to a stick, threw eggs at his car, besides shouting slogans. PTI