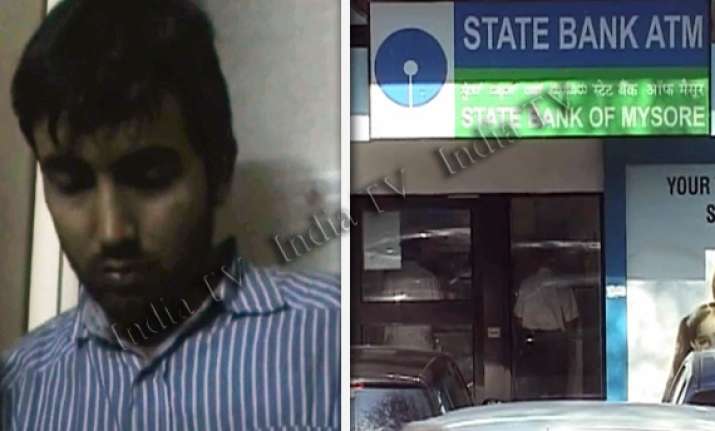 Bangalore, Jan 18: Bangalore police have arrested a 22-year-old man Manish Kumar Singh, hailing from Hazaribagh, Jharkhand, on charge of stealing money from other customers' accounts from the State Bank of Mysore ATM at Kempegowda Marg here on December 27.
 
Police arrested him on the basis of cctv footage which showed Manish first inserting a matchstick beneath the Enter button, and coming out lying in wait for his next kill.
 
As another customer swipes his ATM card and enters his PIN, he finds no transaction being done by the ATM, because of the stuck Enter button and then leaves the place.
 
Manish, lying in wait, soon enters the cubicle, takes out the matchstick, presses Enter and withdraws cash from the customer's account. In between, he shows his ATM card at the camera to show that he was  a bonafide customer.
 
Manish first withdrew Rs 15,000 and again Rs 10,000 from the accounts of two different customers, but in his third attempt he was nabbed by policemen, who were lying in wait.
 
Police had found Manish's images on cctv in both the first two thefts and had formed a special team to catch him.
 
Manish confessed that he used to come to Bangalore to meet his sister studying engineering.
 
Such thefts are possible only in those ATMs, where card swipe facility is available.
 
Bank officials have requested customers not to leave the ATMs until their transactions are over, and if a transaction does not take place, they should wait for the ATM to show that the transaction was cancelled, and then leave.