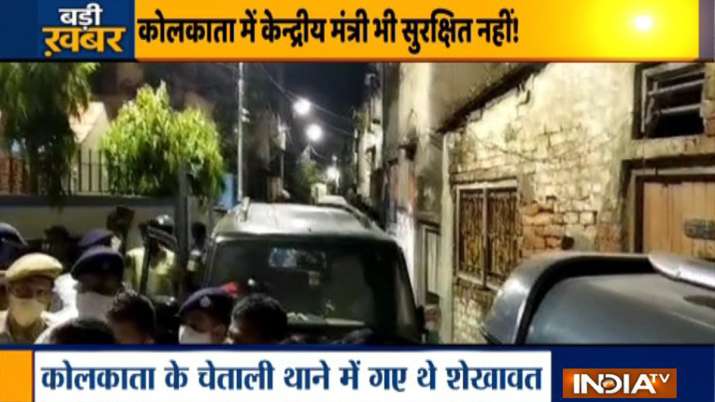 The Bharatiya Janata Party has alleged that Trinamool Congress workers allegedly attacked the convoy of party leader and Union Minister Gajendra Singh Sekhawat in Kolkata on Thursday night. According to details available, Sekhawat's convoy was attacked outside a police station in Chetla area of the city.
Sekhawat had gone to a police station to lodge a complaint against TMC workers for attacking the saffron party workers. TMC workers outside the police station gheraoed the BJP leader and attacked his convoy. They also raised slogans against Sekhawat as police didn't take any action.
On Wednesday night, BJP's bengal unit president Dilip Ghosh claimed that he suffered injuries after Trinamool Congress workers attacked his car with country-made bombs and bricks in Cooch Behar. Ghosh said that his car's window glasses were smashed in the attack. The BJP leader said that he was hit a brick and he suffered injuries in left hand. The incident took place at Sitalkuchi after a rally. He said that police did not act to prevent the attack on him and BJP workers.
Earlier on Tuesday night, BJP leader Shahnawaz Hussain said that stones were pelted at him by TMC workers in Howrah. The BJP leader posted on social media a video in which he was seen showing two stones to the officer on duty and blaming the TMC for the alleged incident.
"TMC workers pelted stones on me while I was addressing a meeting at Muzzafar Chowk," he tweeted, saying he was safe and the party workers had lodged a complaint. "I myself went to the Golabari Police Station & asked them why police personnel were not deployed according to my Y + CRPF cover security protocol. Strangely, they had no answers for that."
READ MORE: Explain 'central forces' remark: Election Commission issues second notice to Mamata Banerjee