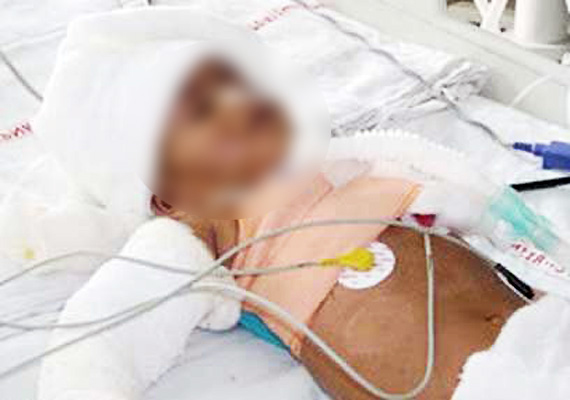 New Delhi, Mar 15: Losing her two-month-long grim battle for survival, two-year-old battered baby girl Falak, whose harrowing ordeal had shocked the country, died here tonight following a cardiac arrest.

The child, who was admitted to the AIIMS on January 18 with severe head injuries, broken arms, bite marks all over her body and cheeks branded with hot iron, breathed her last at 9.40 PM after an "unexpected" heart attack, doctors said.

"It was unexpected. She was fit to be discharged. All of a sudden, she had a cardiac arrest at nine and we tried to revive her. But then she gave up at around 9.40 PM," said Deepak Agrawal, Assistant Professor of Neurosurgery at the AIIMS Trauma Centre who has been attending on her from the day she was admitted there.

During her treatment earlier, she contracted meningitis and underwent five surgeries and had also suffered two heart attacks.

"She was doing well. We removed her from the ICU and shifted her to the ward after we found that she had recovered well. The whole day she used to spend time playing with the nurses at the hospital.

"All of a sudden she had a cardiac arrest. Since she is a medico-legal case, we will conduct a post-mortem tomorrow," Agarwal said.

The child was brought to the hospital by a girl, who had falsely claimed to be her mother. Investigations revealed the shocking story of Falak, her two siblings and their mother who were all separated after falling victim to human traffickers.

Falak's mother Munni was tricked into a second marriage by three women out of whom two—Laxmi and Kanta Choudhry— were arrested. The trio had promised that her three children will be taken care of but they were left to different people.

Ten people were arrested in the case. Police traced Falak's five-year-old brother from the house of a vendor in West Delhi's Uttam Nagar locality while her sister Sanobar was traced by Delhi Police to Muzaffarpur in Bihar.

On Februray 15, Falak was reunited with her 22-year-old mother Munni who met her in the hospital.

During the course of her 58-day treatment, Falak had blood, chest and brain infection.

"Due to this, she suffered from meningitis for a long time. She was also on the ventilator and we had to conduct a tracheostomy. But she had survived all this and had recovered well," Agarwal said.

"She was responding so well to the treatment and had her condition had become good that we had even decided to discharge her from the hospital this week," he said.  However, doctors had said that due to damage to her brain, she could not have led a normal life.

Moved by Falak's plight, Indians as well people from the US and Canada had expressed their desire to adopt her.