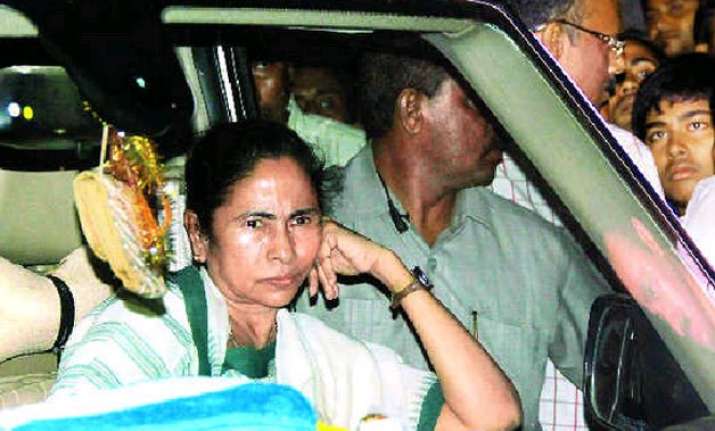 Ranaghat: Post meeting the 71-year-old gang-raped nun in Nadia on Monday, West Bengal Chief Minister Mamata Banerjee ran into a wall of protest on NH34 while she was returning to Kolkata.
Mamata was barricaded as she lost her cool and threw a "challenge to the CPM and BJP men in the crowd". It was for the first time in her tenure as a CM that she was blocked by a group of people and that too by students. She was asked for a CBI probe in the matter by the outraged mob and even to resign.
The students of Ranaghat and their parents held up Mamata's convoy and state police chief for around an hour demanding why the nun's rapists had not been arrested yet.
Mamata was taken aback by this and retaliated with aggression. A class XI student, who refused to be named, fearing "retaliation", said: "The CM pushed us after she got out of her car. When I asked her why those who hurt our sister had not been arrested yet, she said I will give you a tight slap."
Mamata retorted with a conspiracy theory and accused CPM and BJP of provoking the protesters. "You may not know this but some CPM and BJP men are in this agitation. I challenge them to come and meet me. I am waiting here. I am a product of movement. I am here. Let me take a test of their courage," she said over a megaphone. She announced that she would not budge until the protesters dispersed on their own.
However, her strategy did not help her much as the protest only became fiercer while the police became utterly helpless.
DGP G M P Reddy placed himself in front of the CM's vehicle even as demands for her resignation rented the air. While the protesters shouted with the placards that said: ''Ghoom noy, ghoom bhanganor oshudh chai' (Not sleep, we need medicine to rouse them into action)" Mamata responded with counter-slogans, shouting into the megaphone: "Dhikkar, BJP, dhikkar."
As published in a report by Times of India, senior police officers then devised a ploy to break the stalemate. They led the agitating students to a nearby field, saying the CM wanted to talk to them. The students believed the cops and walked off the highway. Police teams sprung into action and got Mamata's convoy through the gap and on its way to Kolkata. When the students realized what had happened, they were livid and ran after the CM's convoy. Police lathicharged some of them. The blockade then shifted to the railway tracks where it continued till around 9.30pm.
Students outraged as she left, one of them said that the government had assured them that the culprits would be arrested within 48 hours following which they had lifted the rail blockade on Saturday. However, they said, we feel cheated, she lied to us.
Students demanded to know why the CM did not speak to them. "Officials said the CM would meet us at Chetanar Math. That's where we have been waiting since afternoon. Was she afraid to face us?" asked a student of the convent school where the elderly nun was assaulted.
There was disappointment in Ranaghat when Mamata falsely declared that one suspect has been arrested while CID has not made any such claims yet.
Mamata reached Ranaghat at around 6 PM on Monday and headed straight for the convent. In minutes, she left from there walking towards the Ranaghat subdivisional hospital which was around a kilometer away. A large crowd had gathered by then.
Senior police officers, including the DGP, walked behind her. Cabinet colleague Subrata Mukherjee, however, went in a car.
She was at the hospital for around an hour where she met the brutalized sister and spoke to the doctors treating her.
She told the media that the sister is alright now and that the main gang is yet to be arrested. She said, "We have alerted the border areas and other states. We will get them wherever they are hiding. They will be punished. I am for hanging."
BJP was quick to react to Mamata's charges. BJP national secretary Sidharth Nath Singh said, "It is extremely unfortunate that the CM is blaming BJP instead of catching the culprits. She cannot escape her government's misrule by blaming BJP."
Meanwhile the Bishop of Krishnanagar Father Joseph Gomes said, "The chief minister assured the sisters of all support."