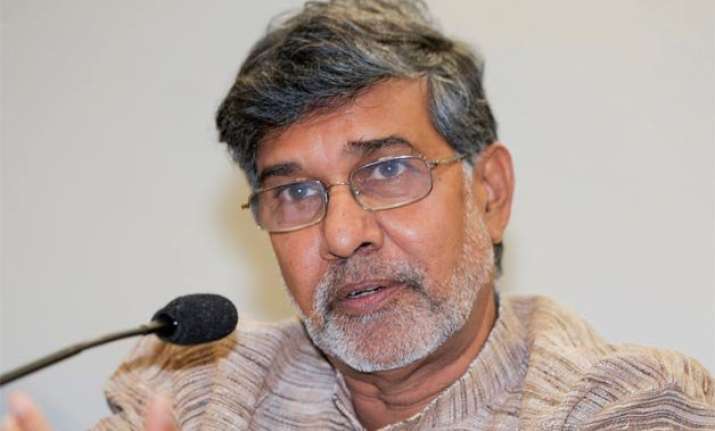 Bhopal:  Nobel laureate Kailash Satyarthi today demanded a complete ban on all forms of labour involving children below 14 years, against the backdrop of Union Cabinet's nod to amend child labour law to allow them to work in family enterprise.
The child right activist said providing education to all children in society is the key to put an end to this practice.  "Because of child labour there is poverty, illiteracy and sickness in the world and it is very essential to provide education to them as it can effectively eradicate child labour from world," said Satyarthi, founder of 'Bachpan Bacahao Andolan' at a function here.
He was here to attend the 'amrit mahotsav' (turning of 75 years) function of educationist Surendranath Dube.  Referring to the proposed Child Labour (Prohibition & Regulation) Bill 2012, he demanded a total ban on employing children below 14 in all kinds of profession.  
On one of the proposed amendments that allows children below 14 years to work in family enterprise after his school hours or during vacations, Satyarthi said the children should be allowed to do so only under his parents or legal guardians and not under his relatives.
He demanded a complete ban on employment of children in the age group of 15-18 in all forms hazardous industries unlike in only 18 industries which used to be the case.  
The existing Child Labour Law which was framed in 1986 has many loopholes, he said, adding the proposed bill will plug them and have more stringent provisions.  
"We demanded that in the cases of violation, provision of awarding stringent punishment and heavy fines should be done in the proposed new bill to which Union cabinet has recently given its nod," Satyarthi said.
"I have demanded from Labour Minister that the list of 18 hazardous industries should not be brought down under any circumstances and that it should be enhanced further by identifying more such industries," he said.
Satyarthi said he would be attending the UN world education summit from next Monday, and will address it along with the UN Secretary General Ban ki Moon, in which roadmap for next 15 years of education will be prepared.  
He said a total of six crore children across the world have not attended schools whereas 25 crore children have dropped out of schools, while 21 crore children are unable to read and write despite getting primary education.  
During the summit a proposal lauding efforts to reduce number of children deprived of education from 13 crore to 6 crore will be passed, Satyarthi said, adding he is not happy with this situation though.
He said a fund of USD 22 billion is required every year for providing education to all children in the world.  
This can be easily arranged by cutting 4.5 days of allocation from the entire defence budget of world.  
According to a study, if a dollar is spent on children's education it will ensure seven-time return to those who make a provision for it, he claimed.