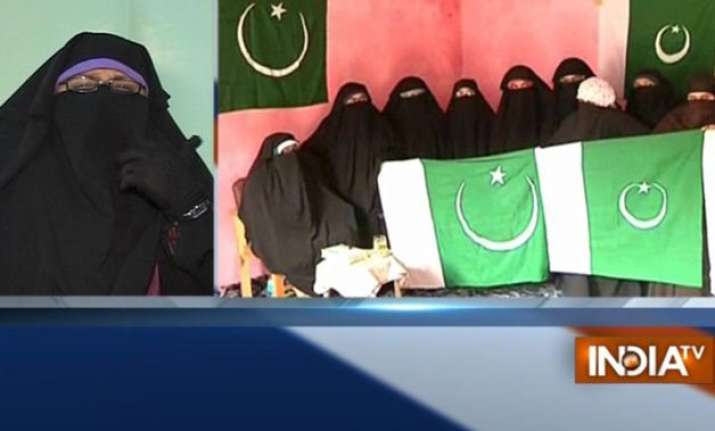 New Delhi: Burqa clad activists and chief of Kashmiri separatist women group Dukhtaran-e-Milat (Daughters of Faith), Asiya Andrabi, has been booked for unfurling the Pakistan flag on its national day in Srinagar. The activist not just unfurled the flag but also sang Pakistan's national anthem.
In an interview to Hindustan Times, Andrabi said, "I have been doing it for the past 35 years. We distribute sweets on August 14 (Pakistan's Independence Day) and unfurl flags on Pakistan National Day. The whole of Kashmir, in fact, does it. Check how many flags are unfurled here when Pakistan wins a cricket match."
The radical separatist group has been in news for an aggressive campaign against obscenity, vulgarity and other social evils. The group campaigned against beauty parlours and obscene posters depicting women in bad light in the early 1990s in Kashmir.
On asked why she unfurled the Pakistan flag on Indian territory, she said, "Kashmir is a disputed territory. We contest it being Indian soil. It is no crime to unfurl the Pakistani flag on disputed territory. It would have been crime if I hoisted the flag in New Delhi or Mumbai. If it is being described as crime, I will repeat it till the Kashmir dispute is resolved."
Andrabi, head of the Dukhtaran-e-Millat, has been jailed several times in the past for anti-India activities. Still, she continues with her cause — Jammu and Kashmir's accession to Pakistan and secession from India — much to the government's discomfort.
"I am facing a number of FIRs already. Let it be. But all I want to ask is why not book BJP leader VK Singh … he too celebrated Pakistan Day where the Pakistani national anthem was played and the Pakistani flag unfurled? And others, too. It has been a routine exercise to attend Pakistani functions. However, this government is trying to turn every event into a crime. Even the hullabaloo over (jailed separatist leader) Masarat Alam's release is misplaced. The government wants to cow us down and don't allow us to open our mouth. But it will not happen", she says.