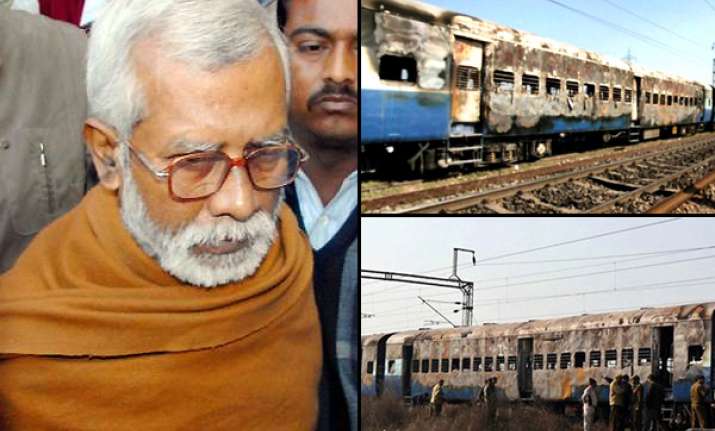 Panchkula (Haryana), Jun 20 :  After a four-year-long probe, the National Investigation Agency today charged suspected right-wing extremist Swami Aseemanand and four others with triggering explosions in the cross-border Samjhauta Express in 2007 that left 68 people dead.

The NIA is also investigating the role of Hindu activist Sadhvi Pragya Thakur in the case and said she might be arrested.

In the charge sheet filed before the vacation court of Additional District and Sessions Judge Kanchan Mahi, the NIA accused Aseemanand, Sunil Joshi (now dead), Lokesh Sharma, Sandeep Dange and Ramchandra Kalasangra alias Ramji of hatching a criminal conspiracy which resulted in bomb blasts in the train near Panipat on February 18, 2007.
Majority of those killed in the blast were Pakistanis.

Ram Chandra Kalsangra and Sandeep Dange have been declared as proclaimed offenders in the case. Aseemanand and Sharma are already in judicial custody in Ambala jail.

The NIA investigation has brought out that Aseemanand was upset with the Jehadi/terrorist attacks on Akshardham temples in Gujarat, Raghunath temple in Jammu and Sankat Mochan temple in Varanasi.

"He used to 'give vent to' his feelings while discussing with Sunil Joshi and his associates. Over a period of time, they developed a deep vengeance against not only the 'Jehadi' terrorists but unfortunately against an entire minority community as such.

"As a result, Aseemanand propounded a 'bomb ka badla bomb' (bomb for bomb) theory. Samjhauta train was particularly chosen, as most of the passengers who travel in it are Pakistani citizens. Aseemanand not only provided financial and logistical support to the terror group which executed this dastardly act but also played a vital role in instigating and motivating his associates to undertake this terrorist act," the NIA charge sheet said.

"The charge sheet has been filed under Section 120-B (criminal conspiracy) read with Sections 302 (murder), 307 (attempt to murder), 324 (voluntarily causing hurt by dangerous weapons), 326, 124, 438, 440 of IPC and 150, 151, 152 of Railways Act," NIA counsel Ahmed Khan told reporters outside court.

He also said that the chargesheet has been filed under various sections of the Explosives Substances Act, Prevention of Damages of Public Property and Sections 13, 15, 16, 17, 18, 19 and 23 of Unlawful Activities Prevention Act.

"The accused persons in furtherance of their criminal conspiracy blasted two bogies of the train that left 68 persons dead and 12 injured," he said.

He said Assemanand was the mastermind behind the conspiracy. "He backed up the conspiracy and financed the people".

On Assemanand denying his involvement in the case, he said, "There is extra judicial confession of Assemanand, which itself is sufficient".

About the executers of the plan, he said investigations were going on and NIA could file further challan under relevant sections.

"Investigations are going on against involvement of other accused," he said.

About Sadhvi Pragya, he said she might be arrested.

"We will file supplementary chargesheet in the case," Khan said, but declined to give any timeframe.

He said that NIA has a "foolproof case" backed by witnesses and other evidences. "We will prove the charges. In think we will succeed," he said.

Regarding reports that the bogies which were damaged in the blast had been dismantled, Khan said that would not affect the investigations.

The NIA said Sandeep Dange, Ramji and Lokesh Sharma and others under the leadership of Sunil Joshi were instrumental in not only procuring the raw materials for IED but also getting these fabricated and planted in the target.

The NIA after taking over the case conducted probe in Delhi, Haryana, Gujarat, Maharashtra, UP, Bihar, Jharkhand and Madhya Pradesh to unravel the conspiracy hatched by the criminals to perpetrate the act.

"Numerous witnesses and suspects were examined and material evidence collected. The investigation conducted by NIA over a period of almost one year established that, the entire conspiracy was hatched between 2005 and 2007 by the accused...and others at different places in Gujarat, MP and other places," the NIA said.

Investigation has brought out strong suspicion about the role of some more persons in the conspiracy as well and further investigation in the case will be continued, it said.

Earlier, Swami Aseemanand's bail plea was rejected by a sessions court here on May 12. He had had already denied having made any statement to the National Investigation Agency about his involvement in the Samjhauta blast case.

Apart from Ajmer Dargah blast, which claimed three lives and left 15 others injured, Aseemanand and Lokesh Kumar Sharma are an alleged accused in several other blast cases across the country, including those at Hyderabad's Mecca Masjid and Malegaon. PTI