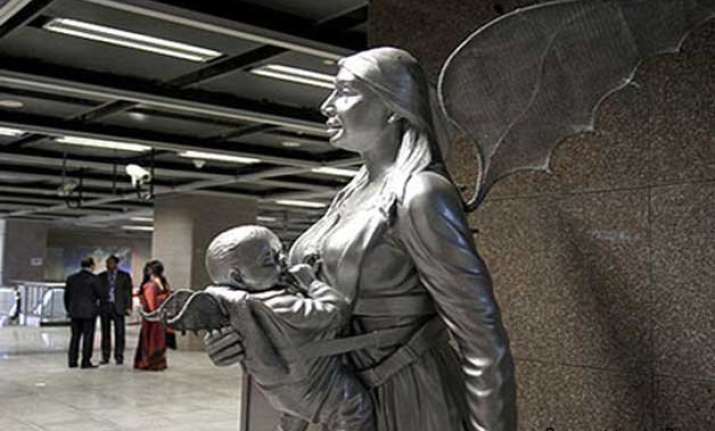 New Delhi:  Travelling by the Delhi Metro can now be now a visual treat with a number of public artworks and photographs lined up at select metro stations in the city.  Beginning from January 15, a series of lightboxes at two metro stations—Jor Bagh and the Mandi House—would be filled with artworks that range from photographs, artprints as well as video and digital works. Text in both English and Hindi accompany the artworks, that is expected to change every three months.
"IHC has always been in forefront of creating programming that has a mass appeal. In a new policy initiative, we have decided to now take art to public spaces and our collaboration with Delhi Metro is the first step in that direction," says Rakesh Kacker, Director, IHC.
The project, a collaboration between the India Habitat Centre and the Delhi Metro Rail Corporation is part of the former's "The Habitat Initiative: Art in Public Spaces." "Community art refers to field of community, neighborhood and public art practice with roots in social justice and popular and informal education methods.
The IHC initiative, was to work in the genre of community  arts, primarily  using photographs, prints, video and digital  works," says Alka Pande, who curated the project.
For three months beginning January, at the Jor Bagh metro station, photographs from the exhibition, "The Long Exposure at Udaipur, 1857-1957", would be displayed on three lightboxes.
Nearly 20 prints of some photographs from this collection would also be displayed on the walls. Displayed images includes "Painted Photographs" or hand-coloured photographs and portraits from three generations of Maharanas who ruled Mewar from 1884 to 1995.
In the month of March, which sees a celebration of Holi, the Mandi House station will features photographs on the festival of colours by Tarun Chhabra, says the curator. 
"I like to celebrate people, places and culture through my photography. My choice of subject comes from a place of intuition and is fuelled by an impetuous desire to partake in the stories that unfold around me," says Chhabra.
Another lightbox at the station would feature a poster from the 'Crime Writers Festival', a two day event that begins here on January 17. Organisers say the theme has been chosen "to encourage gender sensitisation."
"Gender sensitisation isn't just about fighting rape, domestic violence and discrimination. It's about understanding that crying doesn't make a man any weaker and women drive just fine.
"We've gone as far as biologically defining differences in aptitudes for girls and boys, far away from a gender neutral society and towards another century long process of stereotyping. This exhibition is just an attempt, like many before this, to help put a stop to it," says Mita Kapur, festival producer.
Following completion of the festival, the lightbox is set to display Australian artist Robyn Beech's photographs on Holi.
At the Habitat building complex itself, Israeli artist David Gerstein's sculptures will also be displayed as part of the project.Beginning April, the art showcase is set to see a change in the display till June this year.
The Jor Bagh station is set to feature photographs of of women leaders from across the country by Shashi Gogate while the Mandi House station is set to display Shobha Deepak Singh's collection of photographs on prominent theatre personalities.