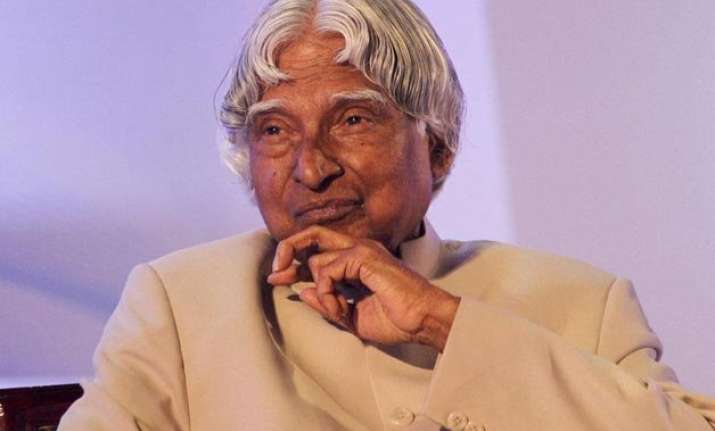 New Delhi: Calling for a "dynamic" SAARC group, former President APJ Abdul Kalam today extolled the ideals of peace, harmony and good governance.
"If after years of fighting world wars, nations of the European continent can form a parliament, then definitely SAARC alliance can become a dynamic force, irrespective of their differences," he said with a reference to the Indo-Pak ties.
Speaking at the 10th edition of the Foundation for Peace, Harmony and Good Governance, a civil-society initiative, Kalam spoke extensively about peace and conflict in a democracy.
"Peace, harmony and good governance are inter-related concepts. If there is good governance, peace and harmony will follow. In the volatile times that we live, it is important to cultivate a sense of tolerance. We should celebrate the differences," he said.
Talking about his three crucial dreams, the Missile Man of India also emphasised on the optimum utilisation of the youngsters in the process of nature building.
"I had three dreams. The first one was the 'space dream' where we launched many satellites and tried to explore the unknown world. The second was 'Agni dream' where we worked on many successful missiles and the last one 'PURA dream'. PURA that aims at providing urban amenities to the rural populace has been adopted by the government on a large scale. It is crucial to dream about what you want to accomplish," he said.
"The billion-plus young population of the country should be utilised to their maximum level by the state. They are the ones who work with spirit and non-biased attitude. Policy decisions that empower them socially, economically and culturally should be given priority," he added.
Rajya Sabha member Karan Singh who was also present on the occasion talked about the role of non-political forces in strengthening a democracy.
"The civil society forces fill the vacuum in public life. They are an important pillar of a vibrant democracy. The contemporary times plagued by terrorism, climate change, nuclear uncertainty and other tensions, especially in West Asia, need the attention of the world. Conflicts arising out of plurality should be curbed. Diversity serves as strength, it should never be allowed to become a weakness," Singh said.