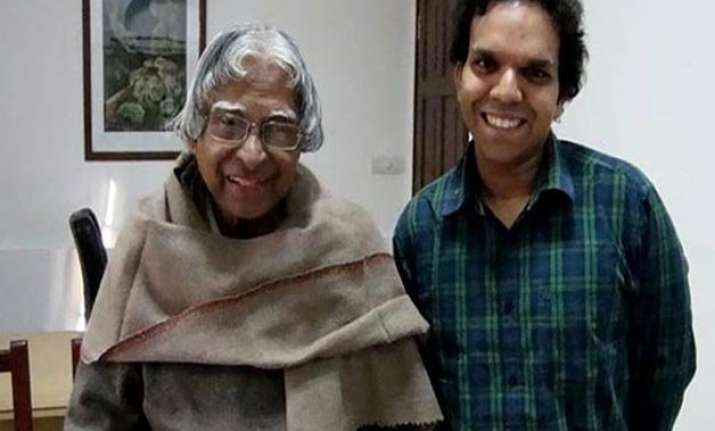 Chennai: A war of words has  erupted between Srijan Pal Singh and late former president APJ Abdul Kalam's office over the handling of  his face book page.
It all started on Wednesday when Dr Kalam's office dissociated itself from Singh by issuing a press realase.
Srijan Pal Singh, an associate of Dr Kalam was with him when the former president collapsed while delivering a lecture at IIM- Shillong.
Late Dr Kalam's advisor V Ponraj said that Singh was not an official representative of the former president and that he just happened to be with Kalam at IIM Shilong.
Singh had posted on the former president's Facebook page, that 'the page is dedicated to your immortal memories…. this account will now reflect thoughts of Dr Kalam and his lessons and missions. Miss you saab'.
Official associates of Dr Kalam are upset with the fact that Singh has been updating the former president's Facebook account and Twitter handle as his personal account.
"Srijan Pal Singh, who was closely associated with Dr Kalam, in his academic pursuits, is giving statements and using social media. We wish to inform all that this office has not authorised Srijan Pal Singh to interact with the media on or about Dr APJ Abdul Kalam,"
Meanwhile, Singh while speaking to an English daily has said  that whatever he has been posting on social media are his views and that the same are not official.  Announcing his decision to deactivate Kalam's account, Srijan Pal Singh wrote on his Facebook post:
"As per advise of former staff members, have deactivated the memorial social media accounts of Dr. Kalam sir.
He trusted me with social media and it was a rare honor to initiate design develop and maintain these accounts for him. I hope I was able to do justice to his valuable faith on something so personal and sensitive.
On the 11th day of his departure and with the grief still deep I am not in a position to debate. I hope this will help us all in some way to come together and work towards larger missions of his which shall be my life's ultimate goals.
Please note fb will take 14 days beginning yesterday to deactivate. It is a technical policy of account deletion under fb. I hope this resolves the issue and we can now focus on using our strength for Kalam sir's missions.
I thank all those who helped in whatever ways to maintain these accounts.. Some of which are many years old."