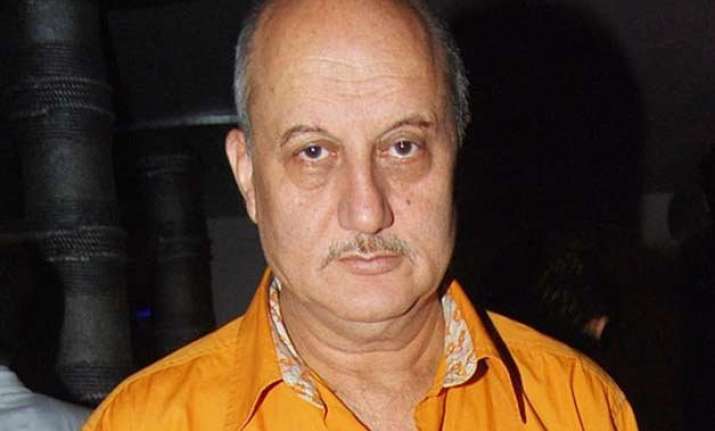 New Delhi: Coming out strongly in favour of the Centre's proposal for composite townships for Kashmiri Pandits (KPs), noted actor Anupam Kher today urged the government to build the "first smart city" in Kashmir Valley for settlement of the displaced community.
He asserted that a "homeland" for itself was a right of the migrant community who, he said, have been reduced to the status of "minority" in the country and slammed the separatists for opposing the plan.
Kher said the project could be initiated with an area of "10 square km" and by building world class infrastructure in the selected area which he said could be a "model" for the country.
"Let the first smart city happen in Kashmir for the Kashmiri Hindus. Because the people who will be settling there may in the initial stages be Kashmiri Hindus but anybody is allowed to stay there.
"Most of the Pandits are educated professionals who will settle there. I don't know who coined the word 'ghetto', some sick mind must have coined that. There is a difference between 'ghetto' and being asked to come and settle down in the same place," he said.
On being asked whether he would want the smart city to be marked exclusively for Pandits, he said, "To start off Kashmiri Pandits should settle there. Later other people can come in.
We are not against the Muslims of the Valley." Kher, a prominent member of the community, said Pandits could not return to their native places because they would not feel "secure" there and most of their properties have been occupied, usurped or sold in distress sale.
"It would not be possible for the 3 per cent to mingle with the 97 per cent who drove us out and you can go back to an area where you have scarred memories. It's not a Hindu-Muslim issue," he said.
"This is not a mere demand. Ths is our right and it is a very right time that the Prime Minister and Home Minister have come up with the proposal. They should go ahead with the plan. Five-six people should not hold it in ransom," he said at a press conference here.