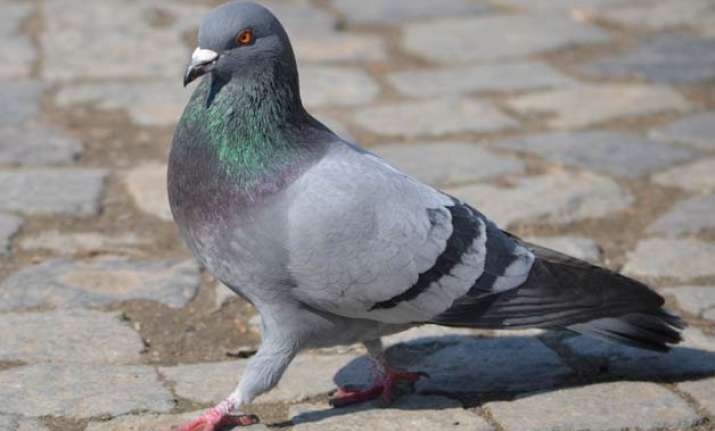 New Delhi: Authorities are probing the mysterious landing of a pigeon near the Indo-Pak border in Gujarat as the bird that is now in police custody had a microchip fitted on one leg, a ring with a code tied to the other and some writings on its wings.
According to a two-page report sent by state officials to the union home ministry, Gujarat's anti-terrorism squad, the Coast Guard, forest department and forensic experts have all been asked to pitch in to investigate the matter.
The pigeon, first seen on March 20 at about five nautical miles off the shore of the under-construction Salaya Essar jetty in Gujarat's Devbhoomi Dwarka district, was in the custody of a police station at Vadinar Marine in the state's Jamnagar region where a station diary entry was made.
One of the security guards deployed at the jetty found that the pigeon was carrying a chip in one of its legs and a number '28733' written in a ring in the other leg. A word - 'Rasul-Ul-Allah' - was found written on the wing of the pigeon in Arabic language. The chip had 'Benjing Dual' written on it.
The Coast Guard was asked to join the probe as the security personnel at the jetty handed over the bird to them for further investigations.
Two days later, the Coast Guard informed local police and registered a preliminary report. District police has now sent the ring and the chip to the forensic science laboratory in state capital Gandhinagar.
Gujarat forest department officials were also asked for their opinion on the pigeon, which is mostly found in North India and is used for racing purposes in foreign countries, particularly in the Gulf.
The report suggests that "Benjing Dual" is used as a reference to pigeon racing in some countries. It adds that the bird could have got out of a ship in deep sea and reached Salaya Essar jetty in search of water.